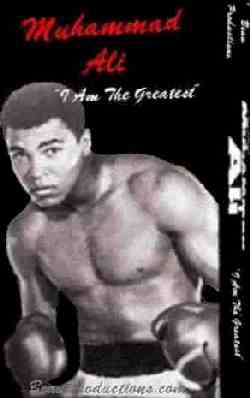 This Multimedia Electronic Ebook is the story of Muhammad Ali. This ebook tells the story of Muhammad Ali with multimedia video clips, music, sound, animation, text and photos.. This Ebook is a powerful tool for entertaining and very educational. Video clips, photography, audio, animation, graphics and text are all set in a custom interface that is easily navigated. Never before Beau Productions has a digital computer progam told the story of Ali like this or for that matter any other athlete.

If you enjoy reading about famous athletes, add to your enjoyment with video clips, music and images that make your pages come alive?

Muhammad Ali "I Am The Greatest" will give you many hours of entertaining information about the life and battles of Muhammad Ali. Read and watch as Ali embedded video clips show his famous battles with the Sonny Liston, Joe Frazier and Big George Foreman.


Famous Phantom Punch - See Slow motion video and hear Ali's humorous remarks about Liston Knockout Punch
Joe Frazier I - II - III Video clips and sound about each epic battle
Rumble in the Jungle - Knock out of Big George Foreman - Video, pictures and text tell the story
Slide show with Ali's most famous and family images.
Muhammad Ali career fight statistics
Ali biography told with text, video and sound clips
Please donate to the Ali Center in Louisville, Kentucky. The Ali Center organization is committed to the advancement of humanity world wide