!-onMouseover Link CSS Script-© Dynamic Drive (www.dynamicdrive.com). For full source code, installation instructions, 100's more DHTML scripts, and Terms Of Use, visit dynamicdrive.com-->







Angel

Rescued Rottweiller











Angel's Story

by INKY Rottweiller Rescue Services
Angel's Story
"My name is Angel. I was thrown from a moving truck with my legs tightly bound one night in Cherokee County, Georgia. I was found by the side of the road by some boys who beat me with a 2x4 while I lay helpless. My unconscious body was discovered by a kind person who brought me to the Cherokee Shelter where I awaited my fate. As my kill date rapidly approached I'd watch people pass my cage, my sad hopeless eyes seem to say "Save me, please save me, I promise I'll be good". I am a 3 year old female rottweiller, spayed, heartworm negative,vaccinated, housebroken, leash trained, sweet and loving.I am sweet and loving and good with other dogs and cats. I have some health problems which may have been the results of my abuse."

A Happy Ending
The wonderful people at the Cherokee Animal Shelter have asked me to pass on Angel's story. Angel's time was up and they had planned to go ahead and euthanize her, but since she is so sweet and has been through so much, they decided to give her a bit more time. Angel was eventually adopted by my husband and I. We want to thank all the people on the AOL Rotty Board who donated money and gifts to Angel. And a special thanks to Laurie at The Cherokee Animal Shelter and Debra who is Angels foster mom.

Angel's Picture Portfolio
Click on the thumb nails below to view larger photos of Angel.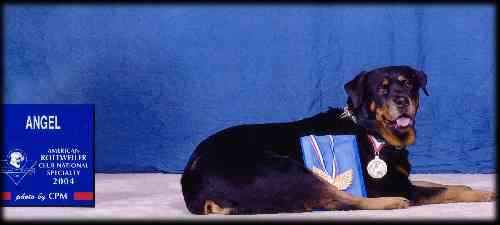 Angel at the National Specialty after leading the Rescue Parade


Baggage
by Evelyn Colbath



Now that I'm home, bathed, settled and fed, all nicely tucked into my warm new bed.
I would like to open my baggage, lest I forget, there is so much to carry - So much to regret.
Hmm.. Yes there it is, right on the top - Let's unpack Loneliness, Heartache and Loss.
And there by my leash hides Fear and Shame. As I look on these things I tried so hard to leave - I still have to unpack my baggage called Pain.
I loved them, the others, the ones who left me, but I wasn't good enough - for they didn't want me.
Will you add to my baggage? Will you help me unpack? Or will you just look at my things and take me right back?
Do you have the time to help me unpack? To put away my baggage, to never re-pack?
I pray that you do - I'm so tired you see, but I do come with baggage - will you still want me?

Angel - A Rescued Rottweiller
---


Angel is now at the Rainbow Bridge taking care of all the rescue pups there. She went to the Bridge with our help on May 26, 2006 at 12 years old.

Her duties on this earth were done and she must have been needed up there. She lived up to her name on earth as a wonderful ambassador for her breed.



---
Help rescue other Rotts with a similiar story. Make a tax deductable donation to Rottie Rescue and receive an immediate download of our INKY Rottweiler Screen Saver.
All Credit Cards Are Accepted By Paypal - Membership Not Required

Click above icon to Donate

Please Donate and recieve a Rottie Screen Saver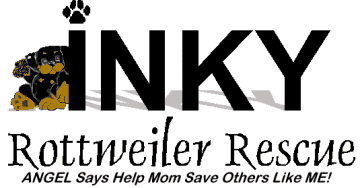 Send Email to Angel
Visit My Sister's Site - Hannah - Rogo's Lite My Fire
Awards Received
---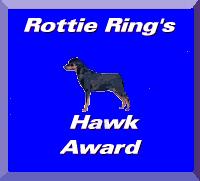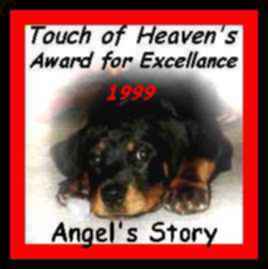 Copyrights All Rights Reserved Beau Productions