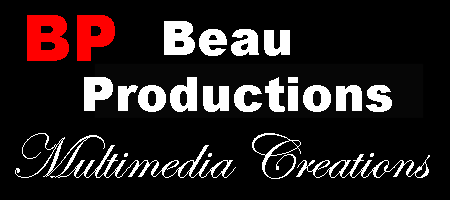 Beau Productions LLC - Copyrights Notice - Terms Of Use
Beau Productions is a LLC created in 2001. Our mission and purpose is to entertain, educate, and promote our web sites. Our digital programs can only be downloaded from our web sites.

Beau Productions LLC will not intentionally cause any harm to any owner of copyrighted material. Because of the amount of material on the WWW it is virtually impossible to know if all items are copyrighted or of public domain. If any individual or organization believe they have a copyright issue claim please contact Beau Productions L.L.C. and such items will be either given credit, removed or other arrangements made.

Our sites do nothing more than promote the careers and interests of individuals, organizations, or celebrities highlighted on our web sites..

Some materials reside on our websites without permission of the copyright holders in the context of education, commentary and criticism as outlined in the Fair Use Provision of the Copyright Act - The Statutory Decree §107. Limitations on exclusive rights: Fair Use.

Our websites (beauproductions.com - all pages) contain information, data, images, videos and other materials in a format which is copyrighted as a compilation by Beau Productions LLC and registered with the US COPYRIGHTS office. (TX 5-897-940 July 18, 2002 Web Graphics - Text - Downloads offered on the Internet) Our sites and all offered programs created by Beau Productions may not be reproduced in any form except as it is allowed under the copyright law. The files and source code provided in Beau Productions web sites are not to be reproduced, copied, down loaded or sold to the third parties without the prior written consent of Beau Productions.

This means, for example, that you are not allowed to copy, duplicate, up load, download or make a link to any information, data and materials from our web pages for any particular purpose without Beau Productions consent.


Website's Terms Of Use

--------------------------------------------------------------------------------
Use of our Websites are subject to the following terms and conditions:

The Websites are owned by Beau Productions LLC . All right, title and interest in all materials, images and data distributed by and displayed on the Websites (the "Materials") are either owned by Beau Productions LLC or copyrighted by others. Beau Productions and its copyright owners retain all proprietary rights to the Materials. Except for downloading one copy of the Materials on any single computer for your personal, non-commercial home use, you are not authorized to and may not reproduce, copy, transmit, alter, frame, distribute, perform, prepare derivative works based upon, or display the Materials in whole or in part without first obtaining the prior written permission of Beau Productions or copyright owners. (beau1943@aol.com)

You may not transmit or send messages, inquiries, scripts, "spiders," automated query programs, web crawlers, robotic programs, robots, or other similar devices to the Websites or its associated server, or otherwise use or access, electronically or manually, our Websites or its associated server, along or with others, in any manner which: (i) "scrapes," copies, collects, stores, transmits or reproduces any Materials or data displayed on the Websites; (ii) imposes an unreasonable or disproportionate load on the Website's infrastructure or server, or otherwise adversely affects, restricts or inhibits any other user from using and enjoying our Websites; (iii) in any way diminishes or reduces the value of the Websites or any Materials displayed on the Websites or otherwise injures the Websites, Beau Productions or its property; (iv) is threatening, abusive, libelous, defamatory, obscene, vulgar, offensive, pornographic, profane, sexually explicit or indecent; (v) constitutes or encourages conduct that would constitute a criminal offense, give rise to civil liability or otherwise violate any local, state, national or international law; (vi) violates, plagiarizes or infringes any of the rights of Beau Productions or third parties including, without limitation, copyright, trademark, patent, rights of privacy or publicity or any other proprietary right; (vii) contains a virus or other harmful component; (viii) contains any information, software or other material of a commercial nature; (ix) contains advertising, promotions or commercial solicitations of any kind; (x) constitutes or contains false or misleading indications of origin or statements of fact; (xi) contains material irrelevant to the subject matter of the Message Feature; (xii) contains any virus, Trojan horse, worm, time bomb, cancelbot or other harmful or deleterious programming routine; or (xiii) otherwise violates the limited scope of permission hereby expressly granted.

You hereby agree to indemnify and hold Beau Productions LLC and its directors, officers, employees, agents and representatives (collectively, the "Beau Productions Entities") harmless from all claims, liabilities, damages and expenses (including attorneys' fees and expenses) arising out of or relating to: (A) your use of our Websites; or (B) any alleged breach of this Agreement by you.

By using our Websites, you signify your agreement to the terms and conditions of this Agreement. If you do not agree to the terms in this Agreement, you must not use the Websites. Beau Productions reserves the right to change the terms of this Agreement at any time, and your use of the Websites after such changes are posted means that you accept such terms as revised.

Copyrights
Beau Productions LLC
Contact Person: Ray Beaufait
http://beauproductions.com
beau1943@aol.com
2001 All Rights Reserved