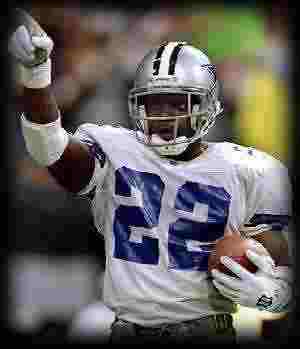 This digital program has videos, images, sounds and music that will put you right there as Emmitt's 11 yard run eclipses Walter Peyton's rushing record.

NFL and Emmitt Smith fans will thoroughly enjoy this program. There is none like it on the Internet.
Emmitt Smith NFL Leading Rusher is an immediate download.. Within minutes you will be viewing the action. After viewing this program you will tell all your friends about all our sports and other download programs.
This Multimedia computer program is a tribute to the Dallas Cowboy's Emmitt Smith, one of the best NFL football running backs ever. You will really appreciate this multimedia production that has digital video, music, sound and images in a user friendly computer program.

This one of a kind program contains the following


Video of Emmitt Smith's run that eclipsed Walter Peyton's NFL record of rushing yards.
Facts on Emmitt's life and NFL career.
Emmitt's lifetime rushing and receiving statistics through Oct 2002, shown with digital sound and video.
Emmitt Smith slide show and more. All in an exciting entertaining and easy to navigate program.