!-onMouseover Link CSS Script-© Dynamic Drive (www.dynamicdrive.com). For full source code, installation instructions, 100's more DHTML scripts, and Terms Of Use, visit dynamicdrive.com-->
THE GOLF SWING OF BRAD FAXON

Golf Swing Video below
Brad Faxon's Golf Swing Highlights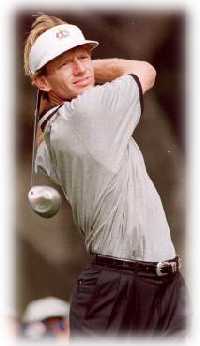 DOB: Aug 1, 1961
POB: Oceanport, NJ
HT: 6-1 WT: 180
Turned Pro: 1983
Joined Tour: 1983
Brad Faxon is a 19-year PGA veteran. An eight-time tournament winner, twice a member of the U.S. Ryder Cup team and a two-time representative on the PGA Tour Policy Board, Faxon is known for owning one of the game's purest putting strokes. And though he admits he isn't the purest ball-striker on tour, his longevity seems to affirm the notion that golf is not a game of perfect.

Brad is known as being one of the best putter's on the TOUR. When asked what are the secrets to being a good putter? Brad states "My only secret is confidence. I don't believe that there is one style that is perfect for everyone". It's hard to pick one thing, but when I putt my best, I feel like I don't care if I miss. People don't know what I mean, and it's hard to explain, but I just try to hit every putt as if I've just made a million in a row.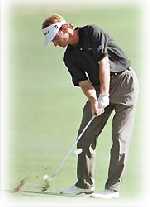 When asked whats the problem you see most often among the average guy in pro-ams. He says he doesn't claim to know everything about putting, but states "I do know I can help a guy who's struggling off the practice green more than I can on it. Most people just suffer from doubt. And too much advice. I got the luckiest break of my life in 1985. I missed the last five cuts of the year and finished 124th. If I'd finished 126th, there's no way I could have gone through Q school. I was hitting it so far off line in every direction. I was asking every person in the world to watch my swing. You talk about what happened to a guy like Seve Ballesteros or Ian Baker-Finch? I went through that. There was a period where I couldn't walk past a magazine stand without picking up Golf Digest and finding the newest thing to try out, what teacher I should go see, all that stuff".

| | |
| --- | --- |
| A look ahead | Will try to hang on among the world's Top 50 as he remains one of the best over-40 vets on tour. |
| Career stage | Has performed well but what lies ahead is a mystery. Faxon won his first title in 1986 and has offered steady performances ever since. His eight tour wins are stretched over a 15-year period and he cracked the Top 10 on the money list three times, most recently in 1997. Responded to his 40th birthday in 2001 by capturing a tour event (Hawaiian Open) for a third straight season, but his prime is nearing the end. |
| Assets | One of the best putters on tour and one of the all-time greats. His 2000 putting average of 1.704 was the best in PGA Tour history. Has led that category in three of the past seven seasons. Possesses a solid all-around game as well. |
| Flaws | A short driver and inconsistent iron player, Faxon puts way too much pressure on his putter and his scrambling abilities. Ranked 183rd on tour in 2002 in total driving. |
| Career potential | Really blossomed in 1992 when he collected a pair of victories and lost two other tournaments in playoffs. He ranked eighth in the world that year, clinched the first of two Ryder Cup berths, but was never able to take his game to the next level. His major championship resume is not a great one: His best effort ever was fifth place at the 1995 PGA Championship. Ranks in the Top 25 on the all-time money list with more than $11 million in career earnings. |

---
Below is a video of Brad's golf swing


Right click on the video for control options.
Please be patient while video loads - Cable and DSL is immediate whereas 56K or less is 20 - 60 seconds


Beau Productions - Golf Swings
Multimedia Downloads
Need More Distance Click Here - Hit It Longer


© Copyright All Rights Reserved Beau Productions - Golf Swings 2000

Golf Swings Main Site - Over 100 Professional Golf Swings

- Top -