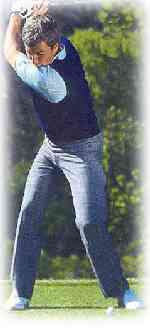 FULL NAME: Curtis Strange
HEIGHT: 5-11
WEIGHT: 180
BIRTHDATE: January 30, 1955
BIRTHPLACE: Norfolk, VA
RESIDENCE: Williamsburg, VA
FAMILY: Wife Sarah; Thomas Wright III (8/25/82), David Clark (4/3/85)
EDUCATION: Wake Forest University
SPECIAL INTERESTS: Hunting, off-shore fishing
TURNED PROFESSIONAL: 1976
JOINED TOUR: 1977

Curtis Strange is or was one of the America's top golfers. Amongst his achievements are back to back US Open victories. U.S. Open titles (1988-89); 3-time leading money winner on PGA Tour (1985,87-88); first PGA player to win $1 million in one year (1988); captain of the 2002 U.S. Ryder Cup team.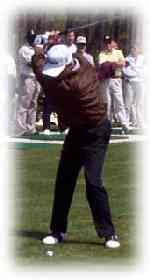 Curtis' father owned the White Sands Country Club which included a golf course. From the age of 8, he played golf every day. At 15, he won the Virginia Junior Championship. When he left school he attended the Wake Forest College, North Carolina on an Arnold Palmer scholarship.

In 1976, Strange turned professional. Although he was successful in monetary terms and despite being voted Golfer of the Year in 1986 and 1987, it took Curtis more than 10 years before he won his first Major, the 1988 US Open. That same year, he became the first golfer to earn more than $1 million in a single season; one of three times when he topped the money list. He successfully defended his US Open victory in 1988. His career seemed to be on a roll but then somehow slowed down. Considered one of the premier players of the 1980s, with 16 of his 17 career PGA TOUR victories coming in that decade.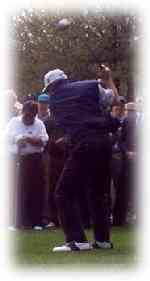 Besides his Major victories and great financial rewards, Strange also served on 5 Ryder Cup squads and holds the record of 62, 10 under par, for the Old Course at St Andrews.

Strange certainly lives up to his name. Despite a 20 year career, the highlights of his career came in a 2 year flash. He is still competing and perhaps we will see him once more rise to the top. His perseverance serves as an example to all sportsmen.

Played in eight PGA TOUR events in 2003 while continuing to serve as lead analyst for ABC golf telecasts. Began working for ABC in 1997.

As an amateur, was a three-time All-American, medalist at the 1974 NCAA and on the winning national championship team in 1974 and 1975 at Wake Forest.