!-onMouseover Link CSS Script-© Dynamic Drive (www.dynamicdrive.com). For full source code, installation instructions, 100's more DHTML scripts, and Terms Of Use, visit dynamicdrive.com-->
The Golf Swing of Davis Love III
View Video below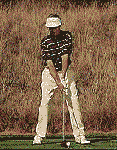 Davis Love's golf swing was started at a very early age. His father was a PGA member and considered an excellent teacher of the golf swing. Davis has always been a long hitter and is one of the longest in the game. His tee shots average a distance of 280 yards plus. Davis has won over 10 PGA events, including a Major (The PGA Championship). He is rated one of the best players in the world.
Davis Love's power secret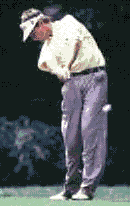 Davis Love III urges amateur golfers to spend more time working on the rhythm and timing of their golf swings. You want your maximum clubhead speed to occur in front of the ball. On the target side, in other words. You accelerate the clubhead through the ball, rather than hit at the ball. That's an important reason Davis is a long hitter. Davis tries to swing the club back without hurrying. He changes directions smoothly and then produces his power at the bottom of the swing. He practices by gripping the club at the wrong end and swinging it so it makes a swoosh sound in front of the ball. If the swoosh comes before the bottom of your swing, you're expending your power too soon.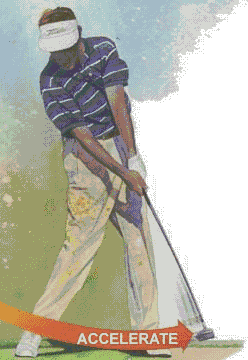 ---
---
Beau Productions - Golf Swings
Multimedia Downloads
Click Here - Hit It Longer


© Copyright All Rights Reserved Beau Productions - Golf Swings 2000

Golf Swings Main Site - Over 100 Professional Golf Swings

- Top -