Dottie's Golf Swing Highlights

LPGA star Dottie Pepper is dedicated to her career goals. Striving for induction into the LPGA Hall of Fame, Dottie is a strong competitor, but also finds fulfillment off the course with her family.

Dottie Pepper was the 1981 New York State Amateur champion, 1981 and 1983 New York Junior Amateur champion. In 1984, she was the low amateur in the U.S. Women's Open. Pepper is a graduate of Furman University where she captured five individual tournament titles and was a three-time All-American.

Pepper was named the South Carolina Professional Athlete of the Year in 1991 and 1992, the 1992 Golf Writers Association Player of the Year, and in 1993 an ESPY Award winner and Jim Thorpe Award winner. She won the 1992 Rolex Player of the Year Award and the Vare Trophy Award for having the lowest scoring average of the season, 70.80.

In 1995, Pepper crossed the $3 million mark in career earnings and set the all-time LPGA record for being the fastest player to reach that mark in seven years, six months and two days. Pepper has represented the U.S. as a member of the 1990, 1992, 1994, 1996, and 1998 Solheim Cup teams.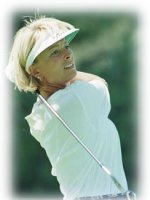 Background
Joined LPGA: October, 1987
Birthday: August 17, 1965
College: Furman University
Height: 5'6"
Birthplace: Saratoga Springs, N.Y. Residence: Jupiter, Fla.
Exempt Status: Exempt

Major Victories
1992: Nabisco Dinah Shore

LPGA Tour Victories
1996: Rochester International, ShopRite LPGA Classic, Friendly's Classic, Safeway LPGA Golf Championship
1995: PING Welch's Championship (Tucson), McCall's LPGA Classic at Stratton Mountain
1994: Chrysler-Plymouth Tournament of Champions
1993: World Championship of Women's Golf
1992: SEGA Women's Championship, Welch's Classic, Sun-Times Challenge
1990: Crestar Classic
1989: Oldsmobile LPGA Classic

Unofficial Victories
1995: JCPenney/LPGA Skins Game
1992: Wendy's Three-Tour Challenge (with Patty Sheehan and Nancy Lopez), JCPenney Classic (with Dan Forsman) .