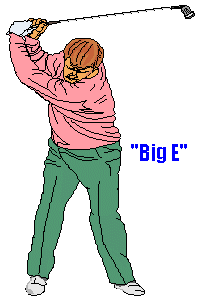 The Golf Swing of Eric Robinson

Eric Robinson is my golfing buddy and best of friends. Eric has a good golf swing and when his timing and tempo is right he absolutely kills a golf ball. Eric's handicap is usually between 10 and 15 depending on how much he is playing. He occasionally shots in the 70's but is usually around 83 to 90.

Click below to view a video file of Eric's golf swing. This file has sound and is much clearer and larger then the gif animation. You must have Win98 or better to view.

---
1. Eric's swing - 200KB - less than a minute download 28.8 modem
---

---
Beau Productions - Golf Swings
Multimedia Downloads


JOIN OUR REFERRAL - AFFILIATE PROGRAM


Need More Distance Click Here - Hit It Longer


© Copyright All Rights Reserved Beau Productions - Golf Swings 2000

Golf Swings Main Site - Over 100 Professional Golf Swings

- Top -