!-onMouseover Link CSS Script-© Dynamic Drive (www.dynamicdrive.com). For full source code, installation instructions, 100's more DHTML scripts, and Terms Of Use, visit dynamicdrive.com-->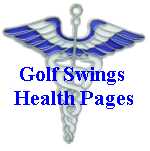 Your Health and Golf
Golf Swings Health Pages, is an online compendium of health care articles, tips, providers, facilities and services designed to help you stay healthy. To play and enjoy the game of golf to a ripe old age you must stay healthy. The maintenance of your health even becomes more important as we grow older. The content of Golf Swings Health Pages is kept current through monthly updates.

Below is a series of articles about health care from different sources around the Internet.


Tennis Elbow



Your Muscles - Golf Muscles



The Skeletal System



The Rotator Cuff



Healthy And Restful Sleep



Heart Disease



Heart Attack



Stroke



Smoking - Reasons to quit
smoking



Lung Cancer



Skin Cancer



Your Spine and Nervous
System



Lower Back Exercises



Knee Exercises



How to give CPR basics



How to give the Heimlich
Maneuver



What is Cholesterol and how
can we control?



Lightning Safety



Hernia



Golf Exercises and Stretches



Arthritis Remedies





Please provide your email address. You will be notified of updates and additions. Your email address is not provided to any other mailing lists. We value your privacy.
THE CONTENTS OF THIS WEBSITE AND THE LINKS ARE FOR INFORMATION ONLY AND ARE NOT A SUBSTITUTE FOR MEDICAL ADVICE.

More Articles coming soon


---

Steve Griffith
---