!-onMouseover Link CSS Script-© Dynamic Drive (www.dynamicdrive.com). For full source code, installation instructions, 100's more DHTML scripts, and Terms Of Use, visit dynamicdrive.com-->
Golf Swings Main Site - Over 100 Professional Golf Swings



The Golf Swing of Jack Nicklaus
---
Jack William Nicklaus (born January 21, 1940), also known as "The Golden Bear", was a major force in professional golf, first on the PGA Tour from the 1960s to the mid-to-late 1980s, then on the Champions Tour from the early to mid 1990s.

Nicklaus is generally regarded as the greatest golfer of all time, but as of 2007 it is a popular discussion point whether or not Tiger Woods will take this status from him, as strong cases can be made for both men.

Nicklaus is ahead of Woods on most cumulative win measures, but Woods has won more than Nicklaus had at the same age, and has arguably been more dominant in his era. Can Tiger survive the test of time as Nicklaus did?

Together with Arnold Palmer, he is credited with turning golf into the major spectator sport it has become. While Palmer brought golf into the television era, it was the developing Nicklaus-Palmer rivalry that drove subsequent interest.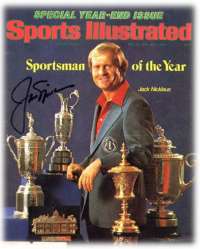 He has won over 100 golf tournaments world wide including eighteen majors. He won the Master's Tournament in 1963, 1965, 1966, 1972, 1975 and 1986.

One hundred and sixty-four majors, 18 victories spanning a remarkable 24 years, another 19 second-place finishes, and each accomplished with more grace and character than any sportsman before or since. Saying he was an inspiration to several generations of major winners only tells the half of it.

Video clip below is from Jack Nicklaus - Golf - My Way. The complete video can be purchased from the Internet or most any golf or video stores.

Click on the Video Camera to view Jack Nicklaus' golf swing
---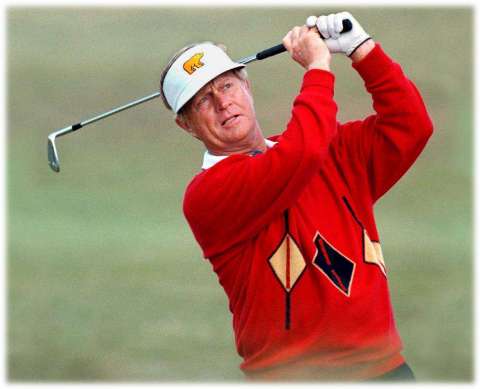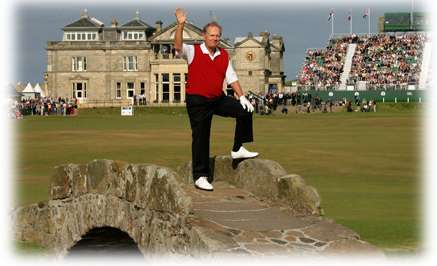 LONG AND STRAIGHT GOLF
"Secrets Of A World Long Drive Champion"


Instant Download - View Instantly - No Waiting - Sold on Amazon.com




This book consists of two very different parts. Part one is the story of my 50 plus year golf career and the reasons why I learned to hit my drives farther than my peers. It also includes my 25-year quest to compare my driving skills with the competitors at the World Long Drive Championship.

The second part contains detailed instructions about how I continue to hit a golf ball over 350 yards even into my mid 60s. I begin with some important lessons I learned during my amateur golf career that created the foundation required for me to win a RE/MAX World Long Drive Championship 35 years later. My personal story includes frustrations, disappointments, bad information from a "friend, receiving support from an unlikely source, overcoming personal mental demons, and finally hitting the drive that won the 2005 Super Senior RE/MAX World Long Drive Championship.......

Thank You,
Steve Griffith




Face Book members please share with your friends Share

© Copyright All Rights Reserved Beau Productions - Golf Swings 2000

Golf Swings Main Site - Over 100 Professional Golf Swings

- Top -