!-onMouseover Link CSS Script-© Dynamic Drive (www.dynamicdrive.com). For full source code, installation instructions, 100's more DHTML scripts, and Terms Of Use, visit dynamicdrive.com-->
THE GOLF SWING OF JONATHAN KAYE

Golf Swing Video below
Jonathan Kaye's Golf Swing Highlights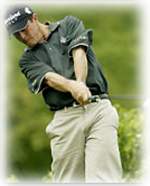 FULL NAME: Jonathan Kaye
HEIGHT: 5-11
WEIGHT: 165
BIRTHDATE: August 2, 1970
BIRTHPLACE: Denver, CO
RESIDENCE: Phoenix, AZ
FAMILY: Wife, Jennifer
EDUCATION: University of Colorado
SPECIAL INTERESTS: Video games, Jalepano farming, dog training
TURNED PROFESSIONAL: 1993
JOINED TOUR: 1995

Kaye is a self-taught player who has never had a teacher ... This is very unusual for a tour player of his ability. Kaye has won twice on the tour and as of Feb, 2004 is ranked 14th in the world.

Jonathan Kaye's professional start on Tour was hampered by recurring shoulder problems. However, he still managed to finish 94th on the money list after his rookie season.
Because of shoulder surgery Kaye was sidelined for most of the 1996 and '97 seasons, and he sank to 190th on the money list in '98. But a runner-up finish at Q-School that year got him back on Tour, where he has since earned more than $7 million.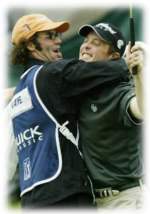 He won the Buick Classic last June for his first Tour victory, which featured a 254-yard hybrid-iron shot to set up his winning eagle. He played in the final group (without victory or incident) in consecutive weeks at the WGC-NEC Invitational and Deutsche Bank Championship. One of the game's longest hitters and purest ball strikers, the self-taught Kaye finished 16th on the 2003 money list, with more than $2.4 million, and kicked off 2004 with his first start in the winners-only Mercedes Championship.

He won the FBR Open in Phoenix at the start of the 2004 Tour season and it appears he will be a major player on tour.

He has a reputation of being a tour bad boy but I believe this reputation is unwarranted and he will soon become a fan favorite. Jonathan is distant and his own person on the Tour.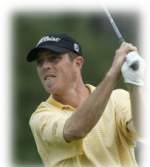 He was a welcome addition to the field, for the Tour can always use more personality. The public's apathy for players not named Tiger was thrown into high relief last season, when Woods's major-championship bagel coincided with severely depressed TV ratings.

"What's killing the PGA Tour is an epidemic of multiple no-personality disorder," says veteran pro John Maginnes. "The Tour needs guys like Jonathan Kaye. He is a beautiful human being. I enjoy playing with him. I enjoy drinking beer with him. All the guys like him, and when he wins a couple more times -- which he will -- the rest of America will know him."

Despite such promising signs, Kaye still has his lapses. He was booed off the 18th green at Pebble Beach in 2001 for directing an obscene gesture at a heckler, but he's not above apologies: "It was a good day that had gone bad.... Obviously I should have been above it, but I wasn't because I was hot."

After some so called rebellions, Kaye seems unshakably happy. He married Jennifer in Boulder in December 2002, after a 10-year courtship that began with a putting contest at CU's Flatirons Golf Course, where she worked and the golf team practiced.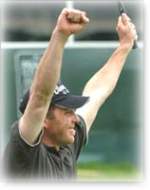 The Kayes live in Phoenix , where Jonathan does the cooking. They plan to put in a garden, where they may sow the special crop that grew around their old place and accounted for Kaye's unusual hobby in the Tour media guide: jalapeno farming. The Kayes live well, but they can't resist a bargain. . Still, Kaye insists he has nothing against golf's upper-crusty tendencies. He has even joined a country club, Silver Leaf in North Scottsdale, but says his life hasn't changed much since he has made it to the PGA Tour.

While he has a few buddies on Tour, Kaye tends to stick close to his family and a few friends. Circle Kaye includes caddie Rick Caniglia, a grade-school pal who knew nothing of golf when Kaye hired him in 1998. Their antics are well known -- including the time they couldn't find a motel room and crashed at the TPC at Avenel locker room until the cleaning crew ratted them out at 2:30 a.m.

Kaye is rarely seen without Jennifer, who quit caddying because of a sore back and a nervous stomach. A former Futures Tour player, she plays matches with Jonathan at the TPC of Scottsdale -- Jennifer gets five a side, loser does the dishes -- where Brisket, their schipperke-Pomeranian, runs off his leash.

As Kaye says of his past indiscretions, "I was never really angry at anybody but myself -- just being a perfectionist. I had my moments when I was younger, when I was crazy and did crazy things. It was all in good fun. I never meant to hurt anybody."

If Kaye could reach the PGA Tour with the problems and other adversity , how great might he be if his only enemy is par and he continues to work on his game? He may become so good that Jonathan Kaye will become a house hold name to all golf enthusiasts.


---
Below is a video of Jonathan's golf swing


Right click on the video for control options.
Please be patient while video loads - Cable and DSL is immediate whereas 56K or less is 20 - 60 seconds

Click Here to veiw another video of Kaye's golf swing
Please Visit our Multimedia Downloads

Beau Productions - Golf Swings
Multimedia Downloads


MAKE EASY MONEY - JOIN OUR REFERRAL - AFFILIATE PROGRAM


Need More Distance Click Here - Hit It Longer


© Copyright All Rights Reserved Beau Productions - Golf Swings 2000

Golf Swings Main Site - Over 100 Professional Golf Swings


- Top -