Kenny Perry's Golf Swing Highlights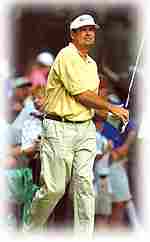 Height: 6' 1
Weight: 190
Birthdate: Aug 10, 1960
Birthplace: Elizabethtown, KY
College: Western Kentucky University
Residence: Franklin, KY
Turned Pro: 1982
Exemption: 2001 tournament winner (through 2003)
Family: Wife, Sandy; Lesslye (5/20/84), Justin (11/23/85), Lindsey (4/27/88)

KENNY PERRY ABOUT HIS GOLF SWING: I have been hitting a lot of golf balls long, coming off hot, and I would get ahead of it and de-loft the golf ball and almost like jumpers for some reason. I quit trying to hit it so hard. I slowed it down. By slowing everything down. I started hitting the ball higher and softer, and it started going my numbers. I have been complaining to Freddie, my caddy, we are either long or short. I don't mind being right or left if it's pin high. It's the long or short that really upsets me. There is times in my swing where I feel I can go at it and swing hard at it and hit it a long ways. So I try to tone that down and it works. I taught myself a lesson right there.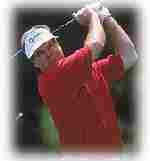 Kenny Perry's path to professional golf started on public courses. As a gift to his hometown, Franklin, Kentucky, Perry and his brother took out a two million dollar loan ten years ago to build Country Creek, a public course where 18 holes runs $12; $28 with a cart. Kenny states the course is built for speed, fun and the rest of the golfing world plagued with slices that will never go away. "It's wide open right anywhere on my golf course. Most guys would probably like playing there," Kenny quipped.

When asked when he last had a chance to play his own course, Kenny replies, "the last time I was home." However, questions about his last score at home are a bit murky, with Kenny explaining, "I couldn't tell you. If you don't shoot 67 or better, you have not played very well."

At 42, Perry acknowledges that he has finally learned the lesson that his father has been trying to teach him his entire life. As Perry explains it, "he is just excited and he is just thrilled for me. He always says, 'I knew you could do it. Now you believe in yourself, now go out there and beat them.'"