!-onMouseover Link CSS Script-© Dynamic Drive (www.dynamicdrive.com). For full source code, installation instructions, 100's more DHTML scripts, and Terms Of Use, visit dynamicdrive.com-->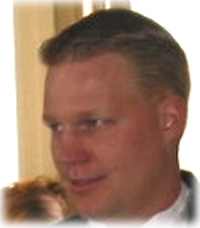 The Golf Swing of
Kyle Lovan



Kyle took up golf about 4 years ago. He has already progressed to a 12 handicap and I believe will eventually become a 7 handicap or lower.

Kyle was an excellent high school athletic and was the starting point guard of the Charlestown High School basketball team that was rated as high as 5th in the state of Indiana. I followed Kyle's basketball career from high school through college. Kyle was a double figures scorer through out high school and college and had excellent passing and ball handling skills. Kyle is one of the most competitive athletics I have ever had the honor of competing with in golf.

Kyle is like a son and family member to my wife and I. I have know Kyle since he was 9 years old. In fact his mother and father taught me how ski on the Ohio River. Kyle, his family, and mine have spent a lot of time together on the river tubing and other water activities. When Kyle decided to take up golf he called me and we have been playing together ever since.

You will note when viewing Kyle's swing he has a solid base and a sound golf swing to build on. He has considerable club head speed and except for an occasional reverse pivot his swing is already better than most amateurs. I believe Kyle will in time have a golf swing many will envy.
---

Below are 5 videos of Kyle's golf swing . Please be patient while the videos load - Cable and DSL is immediate whereas 56K or less is 20 - 60 seconds. Right click on video for start/stop and other control options.

Swing 1 -- Swing 2 -- Swing 3 -- Swing 4 -- Swing 5
---
Need More Distance Click Here - Hit It Longer


© Copyright All Rights Reserved Beau Productions - Golf Swings 2000

Golf Swings Main Site - Over 100 Professional Golf Swings

- Top -