!-onMouseover Link CSS Script-© Dynamic Drive (www.dynamicdrive.com). For full source code, installation instructions, 100's more DHTML scripts, and Terms Of Use, visit dynamicdrive.com-->
THE GOLF SWING OF LAURA DAVIES

Golf Swing Video below
Laura Davies' Golf Swing Highlights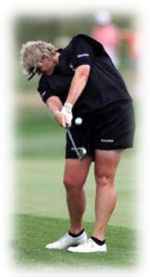 Laura is one of the superstars of the LPGA Tour, Davies joined the Ladies' circuit in 1988 and did so with a bang, winning twice in her first year. Ironically, Davies won the 1987 U.S. Women's Open before becoming an LPGA member. Since then, she has dominated the Tour with her prodigious length and deft short game. Davies has been a member of the European Solheim Cup team every year since 1990, and is a perennial leader on the LPGA's Money Rankings.

Born in Coventry, England, Laura Davies is unquestionably Britain's most outstanding female golfer of the modern era. Her power, style and attitude re-define what it is to be a professional golfer. Her place in golf's hall of fame is guaranteed.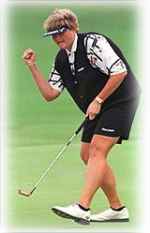 Davies accumulated a notable record during her amateur career. She won the 1983 English Intermediate Championship, the 1984 Welsh Open Stroke Play Championship, the South Eastern Championship in both 1983 and 1984 and also was a member of the Great Britain and Ireland Curtis Cup team in 1984.

Davies led the WPGET Order of Merit in 1985, 1986 and 1996. Prior to becoming an LPGA member, Davies won the 1987 U.S. Women's Open. That victory led the Tour to amend its constitution and grant her automatic LPGA membership. In 1996 Davies was named Rolex Player of the Year and crossed the $3 million mark in career earnings.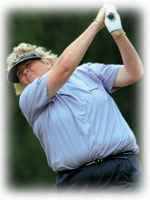 She was a member of the 1990, 1992, 1994, 1996, 1998, 2000, and 2002 European Solheim Cup teams. In 1988 Davies was named a Member of the British Empire (M.B.E.) by Queen Elizabeth II, one of the highest honors that can be bestowed upon a British citizen.

In 2002, Davies recorded her first career double-eagle during the second round of the Mobile LPGA Tournament of Champions Presented by Ultimate Software.

Davies' talent is natural and her great power comes with little practice. She is renowned for showing up to play tournaments, not bothering to play a practice round and then winning the tournament..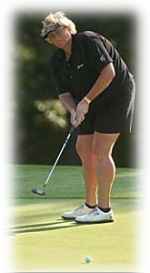 Her long game, which is particularly strong, coupled with a readiness to take risks makes her a difficult opponent. However despite her success she has remained approachable and down to earth.

She is the only professional, male or female, to have won on five different tours in the same year. During the 1990s she has consistenly been high on, if not on top of, the the money list. Indeed she is the first lady golfer to have topped $1m in prize money in a single year. In recognition of her contribution to golf, she was awarded an M.B.E. in 1988 .

The book on Laura Davies is still open. She is still competing and we can expect alot more from this great talent.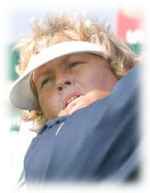 Background
Joined LPGA: October, 1987
Birthday: October 5, 1963
College: None
Height: 5'10"
Birthplace: Coventry, England
Residence: West Byfleet, England


---
Below is a video of Laura's golf swing


Laura





Davies
Right click on the video for control options.
Please be patient while video loads - Cable and DSL is immediate whereas 56K or less is 20 - 60 seconds


Beau Productions - Golf Swings
Multimedia Downloads


JOIN OUR REFERRAL - AFFILIATE PROGRAM


Need More Distance Click Here - Hit It Longer


© Copyright All Rights Reserved Beau Productions - Golf Swings 2000



- Top -