Meg's Golf Swing Highlights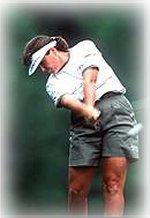 Megan credits Paul VanLoozen, Elmer Preskorn, Mike McGetrick and her parents as the individuals most influencing her career…Winner of Golf Digest's Most Improved Player Award in 1991…Inducted into the Ohio State Athletic Hall of Fame in 1996… Recognized during the LPGA's 50th Anniversary in 2000 as one of the LPGA's top 50 players and teachers…Hobbies include music, sports and travel…Non-voting member of the LPGA Executive Committee (1999).

In 1983, Mallon captured the Michigan Amateur Championship. Mallon attended Ohio State University where she earned All-Conference honors in 1984 and 1985 and was the runner-up in the 1985 Big Ten Championship. Mallon crossed the $2 million mark in career earnings at the 1995 LPGA Corning Classic. In 1996 Mallon totaled nine top-10 finishes and finished in the top-20 in all four major championships.

Meg crossed the $5 million mark in career earnings on Aug. 13, 2000 after her win at the du Maurier Classic; became one of four players in LPGA history (along with Juli Inkster, Annika Sorenstam and Karrie Webb) to earn $1 million in a single season (Se Ri Pak became the fifth in 2001).

Mallon was a member of the 1992, 1994, 1996 and 1998 Solheim Cup teams.

LPGA Victories (13):

1991 Oldsmobile LPGA Classic, Mazda LPGA Championship, U.S. Women's Open, Daikyo World Championship.
1993 PING/Welch's Championship, Sara Lee Classic.
1996 Cup Noodles Hawaiian Ladies Open, Sara Lee Classic.
1998 Star Bank LPGA Classic.
1999 Subaru Memorial of Naples, Sara Lee Classic.
2000 Wegmans Rochester International, du Maurier Classic.
Unofficial Victories (1):
1998 JCPenney Classic (with Steve Pate).
LPGA Awards (1):
1999 William and Mousie Powell Award.