Mike Weir's Golf Swing Highlights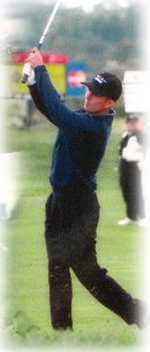 FULL NAME: Michael Richard Weir
EXEMPT STATUS: 2001 tournament winner (through 2004)
HEIGHT: 5-9
WEIGHT: 155
BIRTHDATE: May 12, 1970
BIRTHPLACE: Sarnia, Ontario, Canada
RESIDENCE: Draper, UT
FAMILY: Wife, Bricia; Elle Marisa (12/19/97), Lily (4/3/00)
EDUCATION: Brigham Young University (1993, Recreation Management)
SPECIAL INTERESTS: Hockey, fishing, sports
TURNED PROFESSIONAL: 1992
JOINED TOUR: 1998

Michael Richard Weir grew up loving Wayne Gretzky and the game of hockey. How ever his interests changed and he became obsessed with golf at the age of 11. Weir could always be found hitting balls into the lake near his home in Bright's Grove Ontario rather than skating around on a rink. A southpaw, at age 13 wrote to Jack Nicklaus asking whether he should switch to playing right-handed. Jack's response was to stick to natural swing.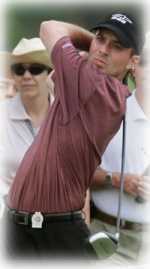 Mike Weir is now known throughout the golfing world and is considered to be Canada's finest. He is at this time also considered the 2nd best left handed golfer in the world behind Phil Michelson.

Mike went to Brigham Young University in the United States and studied Recreation Management. During his University career he won three events and finishing in the top ten 19 times. After winning the 1993 Tournament Players Championship and the CPGA Rookie of the Year award, Weir quickly moved up the professional ranks.

In 1996, Weir had his first breakthrough on the PGA tour, finishing tied for 5th at the Greater Vancouver Open. In 1999 Weir finish seven times in the top ten and he won his first career victory at the Air Canada Championship.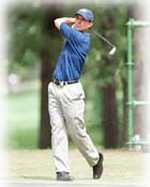 In 2000, Weir again had a great season with nine top ten finishes and another victory at the WGC American Express Championship. Weir also finished, a career high, 6th on the money list. Mike is a three time winner in the early 2003 PGA season and the 2003 Masters Champion.

Other than golf, Weir enjoys fishing and hockey and keeps busy enough that he never has to worry about Medifast coupons to stay fit.
April 14, 2003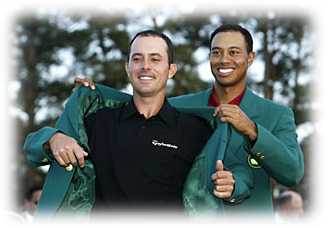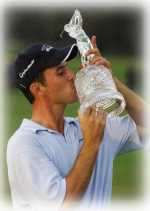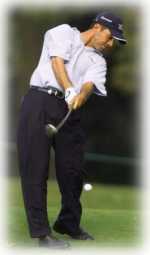 ---
Below is a video of Mike's golf swing


Please be patient while video loads - Cable and DSL is immediate whereas 56K or less is 20 - 60 seconds - Right click on the video for control options.








Need More Distance Click Here - Hit It Longer


© Copyright All Rights Reserved Beau Productions - Golf Swings 2000

Golf Swings Main Site - Over 100 Professional Golf Swings

- Top -