!-onMouseover Link CSS Script-© Dynamic Drive (www.dynamicdrive.com). For full source code, installation instructions, 100's more DHTML scripts, and Terms Of Use, visit dynamicdrive.com-->
THE GOLF SWING OF RYAN MOORE

Golf Swing Video below
Ryan Moore's Golf Swing Highlights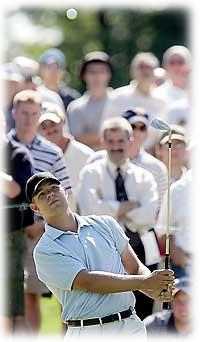 Born: 12/05/1982,
Birth Place: Tacoma, Wash.
College: UNLV
Height: 5-9
Weight: 165 lbs.
Age: 22
Years professional: 0
Debut 2005 Probability

CAREER SUMMARY
The most decorated player in the history of the UNLV golf program ... he set a new standard in amateur golf with a historic summer of success in 2004 by winning five major amateur championships ... He represented UNLV and amateur golf at The Masters in 2004 and again in 2005. He was top amateur in the 2005 Masters. He will play at the 2005 U.S. and British Opens ... is third on UNLV's chart in career collegiate victories with four and is not finished yet.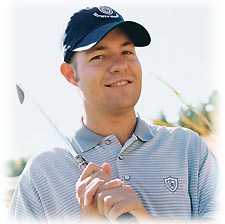 Ryan is the 2004 NCAA Champion, US National Publinks Champion, Western Amateur Champion and US Amateur Champion and medalist. He is the only golfer to win the "Amateur Slam." His 2004 record is arguably the best amateur season on record. He will also be finishing his college career at UNLV before playing in the 2005 US Open. He will be turning pro either immediately after the 2005 US Open or the British Open. His swing is unique rather than classic but he hits the ball well, long and consistently.

HIGH SCHOOL CAREER: A 2001 graduate of Cascade Christian High School in Puyallup, Wash. ... lettered four times in golf for Puyallup High School ... won the Washington individual state title as a senior ... three-time South Puget Sound League Player of the Year ... two-time AJGA All-American ... 17th-ranked amateur among U.S. Boys by Golfweek ... 2000 Pacific Northwest Junior Boys' Amateur Player of the Year ... won the AJGA Thunderbird Invitational and Trophy Lake tournaments and finished second at the U.S. Junior Boys' Championship ... also lettered in baseball.

PERSONAL: Ryan is the son of Mike and Roxane Moore ... has two brothers, Jeremy and Jason, and one sister, Alyssa ... majoring in communications with an emphasis in public relations.

Ryan Moore is going to make an immediate impact on the PGA tour as soon as he turns professional. He demonstrated during the 2005 Masters that he has the ability and poise to compete with anyone.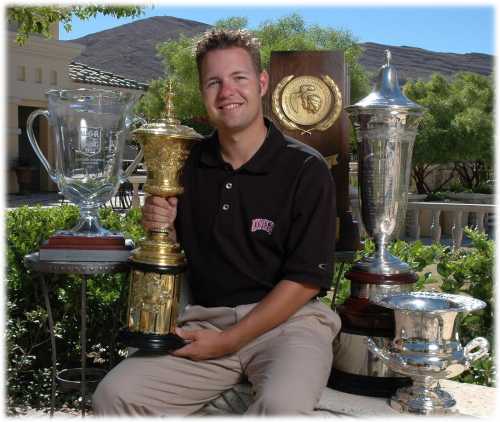 ---

Click Here for a video of Ryan Moore's golf swing
Beau Productions - Golf Swings
Multimedia Downloads
Need More Distance Click Here - Hit It Longer


© Copyright All Rights Reserved Beau Productions - Golf Swings 2000



- Top -