Stuart Appleby's Golf Swing Highlights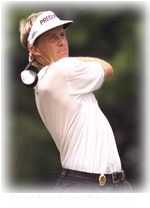 Stuart Appleby still recalls the days on the dairy farm in Cohuna, Australia, hitting golf shots from paddock to paddock once the chores were completed. Now, he's a professional. But he admits that every day, every tournament, he's still learning.

"You look at golf and most players hit their peak in their, say, 30s," says Appleby. "You've got to ask why.

"I mean, they might start when they're 15, might start when they're earlier. So what happens is there's a period of starting, getting to a level where you can play on the tour, keeping your card. There's so many little grades to climb.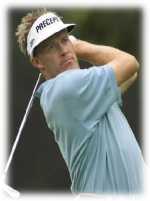 "You sit there and go, well, in tennis, you're peaking within no time, finished within no time, and it's all over. Golf, its like baby steps all the way to peaking in your 30s.

"Players are going to get better as time comes. I'm learning each tournament where I'm under pressure. I'm understanding what I have to do, because if I do those things over and over and I keep working, it will stick with me."

You can't practice stress like you can in a tournament, he believes. "You can imagine you're holing a putt for one tournament. That stuff is neat. But really in the end, the real stuff is very hard to get, and that's what you have to learn from each time."