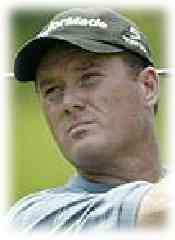 Name: Todd Hamilton
Height: 6'1"
Weight: 195
College: University of Oklahoma
Birthdate: Oct 18, 1965
Residence: McKinney, TX
Birthplace: Galesburg, IL
Turned Pro: 1997
Career PGA Victories: 2
Family: Wife: Jaque; Tyler (4/2/98), Kaylee (6/20/00), Drake (4/18/03)

Todd spent twelve years toiling in the most obscure outposts in golf. Eight tries at PGA Tour school before reaching the big leagues (PGA) as a 38-year-old father of three. Hamilton secure his first PGA TOUR tournament win at the 2004 Honda Classic in Palm Beach Gardens, Florida. Hamilton, plays a TaylorMade R540 driver and TaylorMade 3-wood.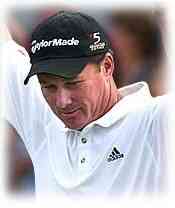 Before the win, Hamilton ranked No. 96 in the Official World Golf Ranking, having twice placed in the top-25 including a tie for 25th at the AT&T Pebble Beach National Pro-Am and a tie for 15th at the Ford Championship at Doral. This victory has moved him to 9th at the time on this year's money list and 38th in the World Ranking.

While Honda Classic was Hamilton's first win on the PGA TOUR, he is no stranger to hoisting the first place trophy. Hamilton spent eight years on the Japan Golf Tour (1996-2003), winning six tournaments including four in 2003. He had won 11 total tournaments world wide.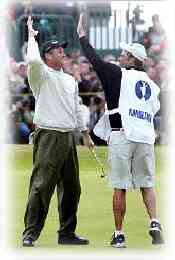 After winning the 2004 British Open, his second PGA victory in 2004 Ernie Els was full of praise for Todd Hamilton after the American eclipsed him in the four-hole play-off in the British Open. "He played wonderful, he kept his nerve when he needed to and I know how much he's going to enjoy it," Els conceded. "I didn't have a great play-off but I had a great week, the golf course was great, the R&A was great and we have a great champion in Todd Hamilton."

When asked if he thought he had a chance to win the Birtish Open Todd responder. "Golf is a crazy game. Just because youíre ranked higher or have made more money than another person doesnít mean youíre the shoe-in to win. You know, when the Bulls were winning all there championships, they were the team to beat, and they very rarely lost. But if you look at golf, say a golfer plays 30 events a year, which is quite a bit, he might only win Ė if heís a golfer like Tiger, Els or Vijay, he might only win three times. Well thatís not a very good average.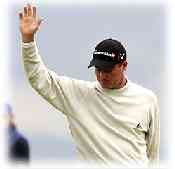 Iíve always thought if youíre good enough to get your Tour card and play on the Tour, youíre good enough to win a tournament. A lot of golf is feel. Some weeks you donít have a very good feel or some days you donít have a very good feel, and that one day might make the difference between winning a tournament or finishing tenth or fifth or something like that." Todd Hamilton has made history and knows when it is his day he can beat the best.