The Babe's Golf Swing Highlights
America's Greatest Women Athlete
of the 20th Century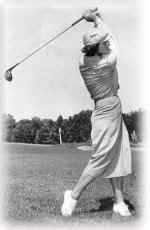 Zaharias, Mildred Ella Didrikson (1911-1956).
Mildred Ella (Babe) Didrikson Zaharias, athlete, was born on June 26, 1911, in Port Arthur, Texas, the sixth of seven children of Norwegian immigrants. Mildred Ella Didrikson is among the greatest athletes of all time, holding more medals and records in more sports than any other 20th-century athlete with enough decorations to fill any number of sheds and possibly greenhouses as well. She was named Associated Press Female Athlete of Year six times from 1932 to 1954, and was chosen female Athlete of the Half Century by AP in 1950. After half a century, few athletes have even come close to her accomplishments.

Didrikson competed in track and field, basketball, baseball, billiards, tennis, diving, and swimming. But, as one of the founders of the Ladies Professional Golf Association, Didrikson is probably most famous as a golfer.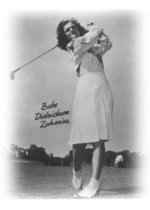 In the 1932 Olympic Games, she set two world records and won two gold medals in the javelin and the 80-meter hurdles, plus a silver medal in the high jump.

After taking up golf in the early '30s, she would go on to win 55 amateur and professional events. She won the U.S. Women's Amateur tournament in 1946. In 1947, she won 17 tournaments in a row, including the 1947 British Women's Amateur tournament -- the first American to win this event.

After turning pro, she won 10 majors, including the U.S. Women's Open in 1948, '50 and '54. She lost only once in seven years of competition.