!-onMouseover Link CSS Script-© Dynamic Drive (www.dynamicdrive.com). For full source code, installation instructions, 100's more DHTML scripts, and Terms Of Use, visit dynamicdrive.com-->
Golf Swings Main Site - Over 100 Professional Golf Swings


THE GOLF SWING OF BARRY LANE

Golf Swing Video below
Barry Lane's Golf Swing Highlights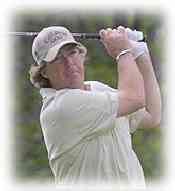 Name: Barry Lane
Height: 5'10"
Weight: 190 lbs
Turned Pro: 1976
Birthdate: Jun 21, 1960
Birthplace: Hayes, Middlesex
College: none

Barry Lane is an Englishman who has joined a group of golfing 40-somethings enjoying a second lease on life. Immensely likeable player who won four times between 1988-94 but then virtually disappeared off the radar screen. Showed welcome return to form in 2002 by finishing 31st in the OM without quite managing a win. Barry has grabed the headlines for the first time in 10 years with his three-shot win at the British Masters 2004 - his fifth career success.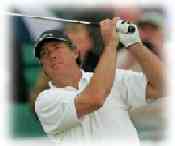 Barry notched up his 500th tournaments on The European Tour at the Deutsche Bank-SAP Open TPC of Europe in 2004

Barry almost always concentrates on the European Tour, although he has dabbled a little with the US Tour. Barry says "It is very different from playing in Europe it is a little bit more competitive, I think. Everybody seems to be on their own and in Europe its a bit more friendly; you meet and everybody goes for dinner and things. I didnt really enjoy the life over there. I mean, obviously, the money over there now is fantastic, but money isnt everything".

One reason Barry prefers playing in Europe is that you can get back home each week. "If you are in America you have to play four or five tournaments, then come home for a week and then go back. It is a lot of travelling.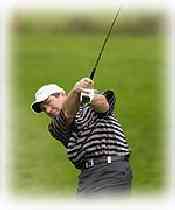 When were in Europe, we get home every Sunday night. its great to wake up in your own bed on a Monday morning, kids running around the house and stuff. So that is a big plus".

Tour victories as of July 16, 2004
1988 - Bell's Scottish Open
1992 - Mercedes German Masters
1993 - Canon European Masters
1994 - Turespana Open de Baleares
2004 British Masters
---
Below is a video of Barry's golf swing


Barry Lane



Video Clip
Right click on the video for control options.
Please be patient while video loads - Cable and DSL is immediate whereas 56K or less is 20 - 60 seconds
Beau Productions - Golf Swings
Multimedia Downloads
Need More Distance Click Here - Hit It Longer


© Copyright All Rights Reserved Beau Productions - Golf Swings 2000

Golf Swings Main Site - Over 100 Professional Golf Swings


- Top -