!-onMouseover Link CSS Script-© Dynamic Drive (www.dynamicdrive.com). For full source code, installation instructions, 100's more DHTML scripts, and Terms Of Use, visit dynamicdrive.com-->
THE GOLF SWING OF

BYRON NELSON



Golf Swing Video below
Byron Nelson's Golf Swing Highlights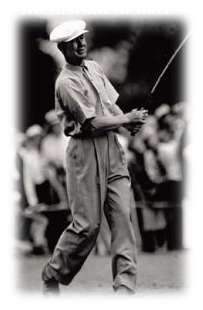 Born: 4-Feb-1912
Birthplace: Waxahachie, TX
Died: 26-Sep-2006
Location of death: Roanoke, TX
Age of death: 94

Turned professional in 1932, his career was extraordinary in the early 1940s because of a quirk of nature: he was not eligible for military service due to a rare blood condition. Bryon is the winner of five majors: the US Open (1939), Masters Tournament (1937 and 1942), and the PGA Championship (1940 and 1945). The number would likely be higher had not the Masters been postponed during World War II. He made the "cut" an impressive 113 times. He won 52 tournaments in his lifetime. The EDS Byron Nelson Championship is named for him.

Nelson won his first major event at The Masters in 1937. Nelson would subsequently win four more major tournaments. Nelson had a blood disorder that caused his blood to clot four times slower than normal, which kept him out of military service during World War II. It has sometimes mistakenly been reported that he had hemophilia; this is not true.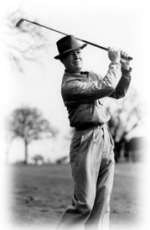 Nelson lost many chances at major championships due to the war. In 1945, while The Masters was postponed, Nelson won 18 tournaments including a record 11 in a row. In his career, Nelson won 52 professional events. After 1946, Nelson curtailed his schedule although he continued to make regular appearances at The Masters as a ceremonial starter for many years.

Nelson's record of 113 consecutive cuts made is second only to Tiger Woods' 142. It should be noted that the PGA Tour defines a "cut" as receiving a paycheck, even if an event has no cut per se. In Nelson's era, only the top 20 in a tournament received a check. In reality, Nelson's "113 consecutive cuts made" are representative of his unequaled 113 consecutive top 20 tournament finishes. Woods has only managed 21 consecutive top 20 finishes in his career. Nelson was able to completely dominate the sport of golf while the field was decimated by the participation of most of the best golfers in World War II. Nelson won the Vardon Trophy in 1939. He played on the U.S. Ryder Cup teams in 1937 and 1947 and was non-playing captain of the team in 1965.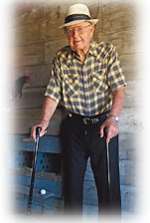 In 1968 the Dallas Open stop on the PGA Tour was renamed the Byron Nelson Golf Classic

Summary:
Winner of five majors, 11 wins in a row, 18 wins in one year, 113 top 20 finishes in a row
Vardon Trophy 1939
PGA Hall of Fame 1953
World Golf Hall of Fame 1974

Below is a video of Bryon Nelson's golf swing
---
---
Click Here - Hit It Longer


© Copyright All Rights Reserved Beau Productions - Golf Swings 2000

Golf Swings Main Site - Over 100 Professional Golf Swings




- Top -