!-onMouseover Link CSS Script-© Dynamic Drive (www.dynamicdrive.com). For full source code, installation instructions, 100's more DHTML scripts, and Terms Of Use, visit dynamicdrive.com-->
THE GOLF SWING OF CHARLES HOWELL III

Golf Swing Video below
Charles Howell's Golf Swing Highlights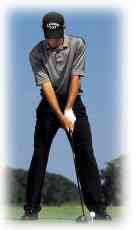 FULL NAME: Charles Howell III
HEIGHT: 5-11
WEIGHT: 155
BIRTHDATE: June 20, 1979
BIRTHPLACE: Augusta, GA
RESIDENCE: Orlando, FL
FAMILY: Wife, Heather
EDUCATION: Oklahoma State
SPECIAL INTERESTS: Fitness, nutrition, fishing
TURNED PROFESSIONAL: 2000
JOINED TOUR: 2001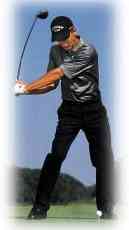 At the end of the 2001 PGA Tour season, Howell had piled up some Tiger-like stats. He was tied for sixth in driving distance (294-yard average), third in total driving (distance plus accuracy), and second in greens in regulation. More impressive still, Howell led the tour in ball-striking, which combines total driving and greens in regulation. Thirteenth in scoring average (Tiger was first), Howell earned more than $1.5 million. All this from a 5-foot-11, 150-pound, 22-year-old newlywed playing on invitations without a tour card.

The first thing you notice about Charles Howell is how much power he generates for a guy so slightly built. He's actually deceptively strong, but what really gives him his power is that he has tremendous coil and leverage, and great balance.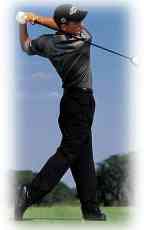 Charles' always had great hand-eye coordination, even though he didn't play other sports growing up -- he knew golf was his game. He is always willing to learn and is very knowledgeable about his own swing mechanics. He is an avid practicer -- almost to a fault. Now that he's married and playing the tour full time, he has to find the right balance between playing, practicing, traveling and resting. Charles hits the ball vast distances with both his driver and his irons. Besides a big coil, he has huge lag in his swing. Most people need more lag -- the clubhead trailing the hands well into the downswing -- but with Charles, we're trying to de-lag him somewhat. Sometimes his hands get so far ahead of the clubhead at impact that he delofts it, turning a 6-iron into a 4-iron. He hits his 10-degree driver pretty low, too. Charles' ball flight? He can work the ball left-to-right or right-to-left if he needs to, and he may prefer a controlled fade. But mostly he just hits the ball straight. As his stats show, he's one of the best drivers on tour.

We're now working hard to improve Charles' distance control -- especially with the short irons, which can be a problem for power hitters. And he's still got to get a little more consistent with the putter. But with a swing like this -- once he gets a taste of winning, he's going to do a lot of it. .............Comments by David Leadbetter - Golf Digest..........


---
Below is a video of Howell's golf swing


Right click on the video for control options.
Please be patient while video loads - Cable and DSL is immediate whereas 56K or less is 20 - 60 seconds


Beau Productions - Golf Swings
Multimedia Downloads
Need More Distance Click Here - Hit It Longer


© Copyright All Rights Reserved Beau Productions - Golf Swings 2000

Golf Swings Main Site - Over 100 Professional Golf Swings

- Top -