!-onMouseover Link CSS Script-© Dynamic Drive (www.dynamicdrive.com). For full source code, installation instructions, 100's more DHTML scripts, and Terms Of Use, visit dynamicdrive.com-->
THE GOLF SWING OF CRAIG PARRY

Golf Swing Video below
Craig Parry's Golf Swing Highlights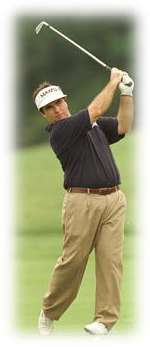 FULL NAME: Craig Parry
HEIGHT: 5-6
WEIGHT: 175
BIRTHDATE: January 12, 1966
BIRTHPLACE: Sunshine, Victoria, Australia
RESIDENCE: Sydney, Australia; Orlando, FL
FAMILY: Wife, Jenny; April, Ryan and Brendan
SPECIAL INTERESTS: water sports, cricket, rugby, computers, Australian Rules Football, golf course design
TURNED PROFESSIONAL: 1985
JOINED TOUR: April 1992

PGA TOUR Victories As of March 7, 2004
(1) 2002 WGC-NEC Invitational.
(2) 2004 Ford Chanpoionship

International Victories
(19): 1987 New South Wales Open [Aus], Canadian TPC [Can].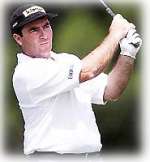 1989 German Open [Eur], Wang Four Stars Pro-Celebrity [Eur], Bridgestone ASO [Jpn]. 1991 Italian Open [Eur], Scottish Open [Eur]. 1992 Australian PGA Championship [Aus], New South Wales Open [Aus], Australian Masters [Aus]. 1994 Australian Masters [Aus]. 1995 Canon Challenge [Aus], Greg Norman's Holden Classic [Aus]. 1996 Australian Masters [Aus]. 1997 Satelindo Indonesia Open [Asia], Japan Open [Jpn], Coolum Classic [Aus]. 1999 Ford Open [Aus]. 2002 New Zealand Open.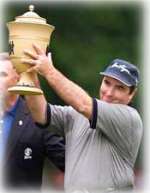 Career Highlights
2002: Had career-highs in money earned ($1,466,235) and money list position (37th)...Earned first PGA TOUR win in his 236th start at the WGC-NEC Invitational. Victory was 20th career victory worldwide, and second of 2002 (TelstraSaturn Hyundai New Zealand Open). Payday of $1 million exceeded any of his previous 10 full seasons on TOUR. Jumped into top 50 on Official World Golf Ranking from No. 118 to No. 45. Won the 2004 Ford Championship with an eagle from about 180 yards out at Doral's Blue Monster for his second PGA Tour victory. Craig's World Ranking is currently 82 but sure to raise with his win at Doral.. Though a little short in stature (5-foot-6), Parry has always been known as "Popeye" for his bulging forearms.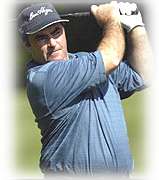 He's in the crafty veteran category at 38. He won 19 international tournaments before finally getting his first U.S. win in the 2002 NEC Invitational at Sahalee.

Personal
Nicknamed "Popeye" for his well-developed forearms...A computer enthusiast who often tinkers with his laptop at tournament sites. Craig built his own Web site: at www.craigparry.com. Visit his site for golf tips and more.
---
Below is a video of Parry's golf swing


| | |
| --- | --- |
| | |
Right click on the video for control options.
Please be patient while video loads - Cable and DSL is immediate whereas 56K or less is 20 - 60 seconds


Beau Productions - Golf Swings
Multimedia Downloads
Need More Distance Click Here - Hit It Longer


© Copyright All Rights Reserved Beau Productions - Golf Swings 2000

Golf Swings Main Site - Over 100 Professional Golf Swings


- Top -