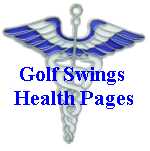 Your Health and Golf
Golf Swings Health Pages, is an online compendium of health care articles, tips, providers, facilities and services designed to help you stay healthy. To play and enjoy the game of golf to a ripe old age you must stay healthy. The maintenance of your health even becomes more important as we grow older. The content of Golf Swings Health Pages is kept current through monthly updates.

Below is a series of articles about health care from different sources around the Internet.


Tennis Elbow



Your Muscles - Golf Muscles



The Skeletal System



The Rotator Cuff



Healthy And Restful Sleep



Heart Disease



Heart Attack



Stroke



Smoking - Reasons to quit
smoking



Lung Cancer



Skin Cancer



Your Spine and Nervous
System



Lower Back Exercises



Knee Exercises



How to give CPR basics



How to give the Heimlich
Maneuver



What is Cholesterol and how
can we control?



Lightning Safety



Hernia



Golf Exercises and Stretches



Arthritis Remedies





Please provide your email address. You will be notified of updates and additions. Your email address is not provided to any other mailing lists. We value your privacy.
THE CONTENTS OF THIS WEBSITE AND THE LINKS ARE FOR INFORMATION ONLY AND ARE NOT A SUBSTITUTE FOR MEDICAL ADVICE.

More Articles coming soon


---

Steve Griffith
---
73
on: May 12, 2014, 08:42:16 PM
Started by Ray Beaufait - Last post by Sam Turner
Al Dobson is also a entry for the SS division.
Marc Kaiser is entered in the Legends division.

Legends will hit at 9am till an estimated finish at 11:30.
GC will begin 12:00- 12:30 estimated finish at 3:oo pm
SS will begin around 4 pm
These times are estimated so make sure you are there.
74
on: May 12, 2014, 11:45:29 AM
Started by Ray Beaufait - Last post by Ray Beaufait
Email from Sam Turner:Legends:
Brad Pearsail, Dixon Spear, Steve Clement, David Brinker, Steve Griffith, Doyle Wilson, Byron Christensen, Doug Miller, Bobby Furneter, Thomas Proben, Matt Shulten
GC:
Dan Robinson, George Moisoff, Kevin Wolfe, Doyle Wilson, Charlie Thomas, Dixon Spear, Chris McCurdy, Steve Grifith, Daniel Fournies

SS:
Daniel Fournies, Jeff Elliot, Christ McCurdy, Matt Strukel, Kevin Wolfe, John Cyrus, Dan Robinson, Neil Simpson, Jackie Sholar
This is also order of hitting.
---------------------------------------------------------------------------------------
http://usworldgolf.com
Below is a link to the profiles of many of the competitors of the USSLD Championships
http://beauproductions.com/golfswingsws/forum/index.php?topic=507.0
75
on: May 12, 2014, 10:01:11 AM
Started by Ray Beaufait - Last post by Ray Beaufait
Gunner's Portfolio Page on Casting360
http://casting360.com/LeonGunner
Leon Gunner: Owner Ray Beaufait
This portfolio page is for Leon Gunner. Of course where Gunner goes I have to go also.
Leon Gunner
Bulldog Model And Actor
Born: 11/11/2007
Nickname: Boo
Height: 2'
Weight: 45
Hi, I am Ray Beaufait the proud owner of Leon Boo Gunner a Freelance Bulldog. Gunner is 1/2 French and 1/2 English Bulldog. Gunner is a character and loves to perform his many tricks before large or small audiences. He jumps through hoops and many other assorted tricks and he is obedience trained, has been awarded the Canine Good Citizen Award and is a certified Service Dog. I can teach Gunner most new tricks within a few minutes.
Gunner has starred in many YouTube videos (30 Plus) and he has won a few dog contests he was entered into locally. Check out his videos on his YouTube pages. Also visit his facebook page and friend him.
Leon Gunner can be taught about anything and he is a very lovable and an unique looking bulldog. Both, Leon Gunner and myself are in excellent health.
HAVE GUNNER, WILL TRAVEL
Ray Beaufait
LEON GUNNER'S PERSONAL WEBSITE
http://leongunner.com
LEON GUNNER'S FACEBOOK PAGE
https://www.facebook.com/leon.gunner.77
76
on: May 10, 2014, 10:47:06 PM
Started by Ray Beaufait - Last post by Sam Turner
Ray, we can try next year after we get the word out.
77
on: May 09, 2014, 11:57:22 AM
Started by Ray Beaufait - Last post by Ray Beaufait
9 SS
9 GC
Waiting reply from 2 master entries for final legend
Entries.

Sam........have you ever thought of a 70 and over? There are millions of golfer in that age group and they know they can't compete against those younger, but it gives them a reason to continue to compete if there was a division for them. Even the older senior loves to compete against others in his foresome. Are there any other 70 plus golfer who agree and would be willing to compete?


Anyone having any comments on this subject please feel free to express them.
78
on: April 24, 2014, 05:57:51 PM
Started by Ray Beaufait - Last post by Ray Beaufait
United States Seniorís Long Drive Open Tournament
Welcome to the new USS Long Drive Tournament
Become a member and make a difference in long drive. As a member you have the ability to recommend changes on format, equipment, entry fees, or any other item that will help our cause. United as members we can advertise for each other in our own state, location and member web sites bringing in new faces and sponsors.
Location:
Red Tail Run Driving Range, 520 West Grove Rd, Decatur Illinois, 62526
Tournament Dates:
Weekend of June 21 starting at 9 am. Depending on how many entries we get some divisions might hit on Sunday June 22nd. That decision will be determined after dead line date.
Format:
Round one hit 18 drives (3 sets of 6 balls), Round two 12 drives (2 sets of 6 balls), Round three 6 drives. Fifty percent of field with longest drive will advance to next round. Grid width 45 to 50 yards. If any drives are within six inches there will be a three ball play off.
Driver Length:
Maximum length 50 inches standing up against wall or 48 1/4 inches USGA.

Entry field:
24 maximum and 8 minimum.

Entry Fee:
$300.00: 90 percent payout.
Membership:
$25 pays for incidental cost that arise, but may be returned to members when possible.
Payout:
24 entries pay 6 spots, 16 entries pay 4 spots, and 8 entries pay 3 spots.
Divisions:
Senior age 45 and up, Super Seniors age 50 and up, Grand Champion age 55 and up, Legends age 60 up, and Masters 65 and up. To compete in division your birthday must be by December 31 of this year.
Entry fee must be in by May 1, 2014. Entry will not be accepted after May 1st.
Mail check or money order to:
Sam Turner
6565 Majors Ln
Decatur Illinois 62521
Email Sam Turner:
samturner833@gmail.com
Cell: 217-413 6618
Web Site:
http://usworldgolf.com



United States Senior Long Drive Championships Association
Live Scoring on June 21, 2014 starting at 9 AM
TROPHIES: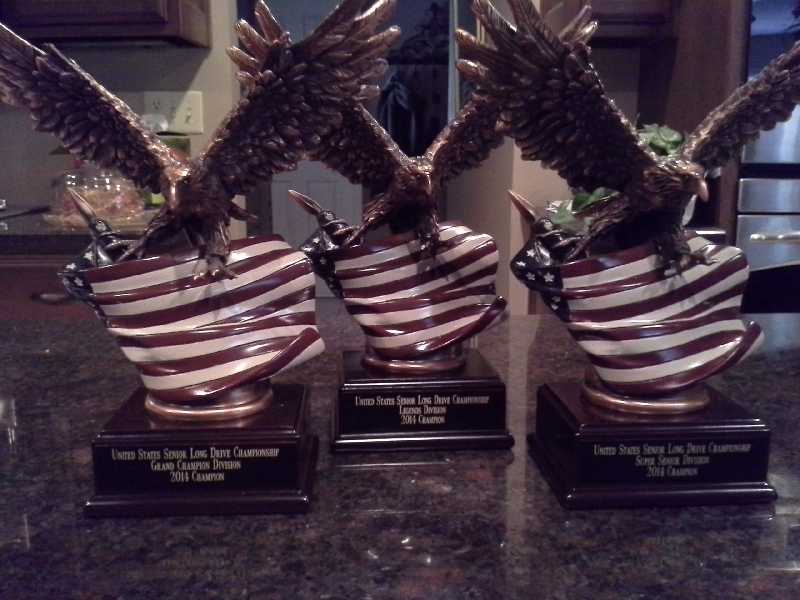 REGISTER FREE TODAY
FORUM HOME OF

---
---
SERVING THE GOLF COMMUNITY SINCE 1998
HTTP://USWORLDGOLF.COM


US WORLD'S FAVORITE GOLF FORUM




OVER 10 MILLION VISITORS TO GOLF SWINGS' WEB SITES



WORLD'S FAVORITE GOLF FORUM site has over 100 Golf Swing Video Clips of your favorite golfers! Golf Swings LIVE FORUM web site was created to help educate and entertain golf enthusiasts around the world. We have BOARD links to the PGA Tour, Health Items, World Golf Ratings, USGA Rules, World Long Drive competitors, the LDA, Free Stuff, Great Products, Sport Downloads and much more. Hours and hours of entertainment. Join our forum free today. Interact with millions of other golfers. A chat and/or shout box have been added. Guests and members can use chat to leave messages.



Anything and everything you want to know about golf can be found in this forum.








Home - Main Page
Back To Top