PARK'S MOVES

The 1998 U.S. Women's Amateur champion has a swing that combines power with, yes, grace. It begins with a stance that is very wide which helps Park maintain her balance throughout the swing. Her weight always stays between her feet. Halfway back Park's arms are fully extended, promoting a very wide swing arc. The club is in front of her body, and her weight has shifted over her right instep, setting up the remarkable shoulder turn you see . It's here that Grace generates her awesome power, the shoulders having turned well past 90 degrees. Just look at the position of her left shoulder, directly over the right thigh. If she were any more wound up, she might snap. This tight coil gives her tremendous leverage and the ability to sling it out there 300 yards.

Halfway down she looks a lot like Karrie Webb. You can see the whip action of the clubshaft, which is still almost vertical. The clubhead is lagging behind, her body is unwinding and pulling the club into a very powerful position at impact. And her lower body is leading the way, a sign of incredible leg strength and flexibility. Most women don't have the strength in their legs to hold this position; instead, they spin out.

At impact you can see the classic straight line from the clubhead to the left shoulder. Park's left arm is completely extended, and she's hitting against a firm left leg. Her hips have cleared, allowing her hands and arms to swing the club aggressively through the hitting area.

Through impact Park's head remains behind the ball as the arms rotate freely. Her finish is perfectly balanced , the result of her smooth tempo.

GRACE'S SWING KEYS

1. SHORTER. The more compact my swing, the easier it is to keep the club in balance and under control. I used to have a very long, high swing, which made it difficult to control my shots.

2. TIGHTER. I want my windup to feel tight and compact, not loose. By keeping the width of my swing constant, I also control the length, which leads to greater consistency.

3. FLATTER. I try to keep my forward swing very low to the ground at impact, as well as my takeaway. This helps to generate greater clubhead speed and more solid contact.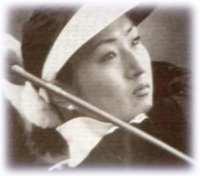 THE STAT SHEET

BORN: March 6, 1979, in Seoul, South Korea
HEIGHT: 5-foot-6
RESIDENCE: Phoenix, Arizona
SCHOOL: Arizona State
BIGGEST WINS: 1999 NCAA individual champion; 1998 U.S. Women's Amateur champion
OTHER ACCOMPLISHMENTS: Tied for eighth at this year's U.S. Women's Open at Old Waverly Golf Club in Mississippi, shattering the previous scoring record for an amateur with a 5-under-par 283.
AMAZING STATS: As an amateur, led the field in driving distance at both this year's Nabisco Dinah Shore and U.S. Women's Open.
WHAT'S NEXT: Park, who turned pro after the U.S. Women's Open, played the Futures Tour in 1999. She won 5 of the ten events she entered and received her LPGA card. 2000 will be her rookie year and her potential is unlimited.

The above information was supplied by Golf Magazine and the Arizona Republic.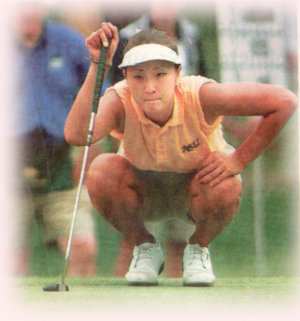 Need More Distance


Click Here - Hit It Longer



© Copyright All Rights Reserved Beau Productions - Golf Swings 2000

Golf Swings Main Site - Over 100 Professional Golf Swings

- Top -