Hank's Golf Swing
Kuehne's fairly wide stance contributes to good balance by stabilizing the lower body. Both knees are flexed properly, not too little or too much, which allows him to turn back and through efficiently.

The clubhead moves away from the ball with good extension, creating a very wide arc. Hank keeps the club in front of his body. This sets the clubshaft on the proper plane to the top of the backswing.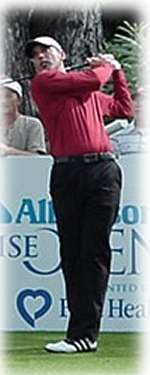 As with all power hitters, you can see the wrinkles on Hank's shirt, indicating how wound up his torso is. The slightly bent left arm is proof it doesn't have to be straight to produce power. A stiff left arm promotes tension, which saps speed from the swing.

Due to a smooth transition, Kuehne is in a powerful, loaded position. Many golfers, in a hurry to get the clubhead on the ball, release the hands, wrists, and clubhead from the top in a misguided effort to generate more speed at the ball.

Kuehne's hips and chest are rotating quickly, allowing room for his hands and arms to sling the club through impact with tremendous velocity. It is important to rotate the chest with the hips or else the club will become trapped behind the body coming into the ball, resulting in a hook or a push.

The ripples on his pants tell you how fast he's swinging. His head remains behind the ball, which allows him to make level contact for optimum launch conditions. I like the way the left leg is firm and braced for the hit.

His head has rotated and his eyes are looking down the target line. It is not glued down, a common mistake that makes it difficult to rotate the trunk toward the target. His right side has fired through, creating a lengthy extension and full release -- right forearm rotating over left.

This is a classic long hitter's position. The right shoulder has rotated through and points toward the target as the hands finish over the left shoulder. These are signs of how fast the club has moved, pulling him into such a big finish.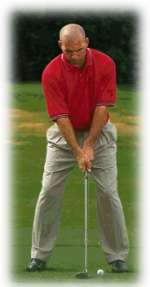 "I've always hit it long. When I was playing baseball, I hit it farther than anybody else.

I just had a different gear when it came to hitting, throwing or kicking. I've always been able to do it.

I don't think I could play golf if I swung at 75 percent. I'm pretty much giving it 95 percent with the driver. It's right at the point where it's almost out of control. That's the way I like to do it. I like to hit it hard. It makes the game interesting. I tend to get bored quickly. I never get bored with the driver."

Remember the story about Sam Snead baiting a young pro into trying to hit it over the trees guarding the dogleg on Augusta's 13th -- without telling him they were only 30 feet high when Snead had done it -- then watching as the ball landed in the trees? Hank has tried it -- and succeeded. "I won't do that in the tournament, though," he admits.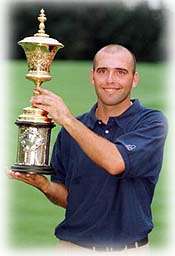 He's always been super long. He won a long-drive contest at the age of 11 with a shot of 275 yards. The next year, he hit a drive 289 yards. In college, he won the Southwest Conference championship with no woods in his bag. With a driver, his clubhead speed maxes out at more than140 m.p.h., and his initial ball speed is more than 180 m.p.h. The result: His drives carry 320 yards.

"When you hit the ball that far," says Justin Leonard, who has known Hank for years, "and you get a week when you hit it straight, it's awfully hard to beat."

"I first met Tiger when we were 15. We played a practice round together. He never had anybody his own age hit it as far as him. We just hit it off. We talk about girls, golf, how to play certain holes, where I can pick up shots, regular guy talk. It's hard to think of him as anything other than a regular guy."

Kuehne not only leads the PGA Tour in driving distance at 319.8 yards, his drives measure more than 300 yards an astounding 86.5 percent of the time; the tour average in that category is 24.5 percent. Information and animation on Hank's golf swing compliments of Golf Digest Magazine.



Many golfers don't know the difference between golf balls. Do you want to discover the many types of golf balls available? Do you want to receive golf instruction? If so there is a site that can get you all the sports information you need!
---
Below is a video of Hank's golf swing