---
Below is a video of Eisenhower's golf swing




Please be patient while video loads - Cable and DSL is immediate whereas 56K or less is 20 - 60 seconds - Once video starts you can start/stop or pause swing action by right clicking on video

---
---
Dwight D. Eisenhower
Dwight David Eisenhower was elected the 34th President* of the United States on November 4, 1952. Four years later, he was reelected to a second term by an even wider margin. "Peace and Prosperity" became the watchwords of the Eisenhower years. Ending the war in Korea was only the first of many foreign policy challenges Eisenhower faced throughout his presidency. Other Cold War crisis erupted in Lebanon, Suez, Berlin, Hungary, the Taiwan Straits, and Cuba. When confronted with possible US military intervention in Vietnam after the defeat of the French colonials, Eisenhower declined to involve the United States. Throughout his presidency, he worked hard to contain communism and, at the same time, was vigorous in his efforts to forge improved relations with the Soviet Union. When an American U-2 reconnaissance plane was shot down over Soviet territory, his hopes for détente, during his watch, were dashed.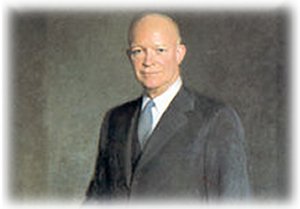 Although criticized by some historians for a lack of leadership on racial issues, President Eisenhower supported and signed the 1957 and 1960 Civil Rights Acts, and ordered federal troops to Little Rock to enforce the desegregation of Central High School. Likewise, his decision to work behind the scenes to defeat Senator Joseph McCarthy, rather than confront his excesses directly, engendered the criticism of many. Eisenhower argued that to lower himself to the same level as McCarthy might confer upon the Senator a significance that would only enhance McCarthy's credibility.

Americans enjoyed a strong, expanding economy under Eisenhower, demonstrated by solid economic growth, little inflation, and low unemployment. Balancing the budget was an Eisenhower priority tempered with a sincere concern for the common good. Eisenhower expanded social security, increased the minimum wage, and established the Department of Health, Education, and Welfare (HEW). During the Eisenhower years, the Interstate Highway System and the National Aeronautics and Space Administration (NASA) were created, and space exploration began. Near the end of his presidency, in 1959, Alaska and Hawaii became the 49th and 50th states of the Union.

---
Please Visit our Multimedia Downloads

Beau Productions - Golf Swings
Multimedia Downloads