!-onMouseover Link CSS Script-© Dynamic Drive (www.dynamicdrive.com). For full source code, installation instructions, 100's more DHTML scripts, and Terms Of Use, visit dynamicdrive.com-->
THE GOLF SWING OF JESPER PARNEVIK

Golf Swing Video below
Jesper Parnevik's Golf Swing Highlights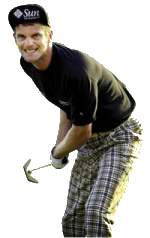 FULL NAME: Jesper Parnevik
HEIGHT: 6-0
WEIGHT: 175
BIRTHDATE: March 7, 1965
BIRTHPLACE: Stockholm, Sweden
RESIDENCE: Jupiter, FL
FAMILY: Wife, Mia; Peg (9/3/95), Penny (5/9/97), Phillipa (5/16/99), Phoenix (2/16/01)
SPECIAL INTERESTS: Magic, vitamins, bridge, backgammon, yoga, yachting, tennis
TURNED PROFESSIONAL: 1986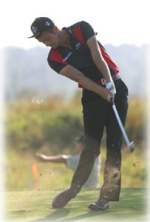 As of Jan 2004 since turning pro in 1986, Jesper Parnevik has 14 career victories including the 2001 Honda Classic and has eclipsed the $1 million mark in earnings for five consecutive years. Known for his retro dress and unique mannerisms on the course.

Parnevik's eccentricities should not obscure his status as one of the game's top international players. Three times in the past five years, Parnevik, has challenged for the British Open title, losing spectacularly in 1994 and more routinely the past two years. At the 1998 Phoenix Open he won for the first time on the PGA Tour, where he stands out with his trademark turned-up cap and tight-fitting threads. He have won 5 PGA Tournaments and 9 International victories as of this date Jan. 2004.

''I'm not scared to try new things,'' he said. ``I've done that all my life. If it's not equipment, it's yoga meditation, different foods -- whatever I can do to improve myself and my game. If it feels great, it's worth trying.''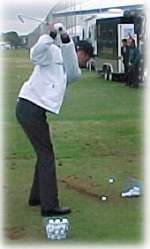 Parnevik, his wife Mia and their children still spend a good portion of their summers in their native country, but for now have made Jupiter, Fla., their primary residence.

Father, Bo, is Sweden's most famous comedian...No matter what Parnevik accomplishes in the game or away from it, he may never be as famous back in Sweden as his father, who has instilled in his son a flair for performing in public.

First turned up bill of cap to get a tan on his face while playing. Also known for distinct golf attire, outfitted by J. Lindeberg...Mentor to rising PGA TOUR star Charles Howell III, also a J. Lindeberg client...Learned game by hitting floating golf balls into lake behind family home...His company, Lifizz, Inc., markets and distributes effervescent vitamins in the United States...Son is named Phoenix, where Jesper first won on PGA TOUR in 1998.


---
Below is a video of Jesper's golf swing


Right click on the video for control options.
Please be patient while video loads - Cable and DSL is immediate whereas 56K or less is 20 - 60 seconds


Please Visit our Multimedia Downloads

Beau Productions - Golf Swings
Multimedia Downloads


MAKE EASY MONEY - JOIN OUR REFERRAL - AFFILIATE PROGRAM


Need More Distance Click Here - Hit It Longer


© Copyright All Rights Reserved Beau Productions - Golf Swings 2000

Golf Swings Main Site - Over 100 Professional Golf Swings


- Top -