!-onMouseover Link CSS Script-© Dynamic Drive (www.dynamicdrive.com). For full source code, installation instructions, 100's more DHTML scripts, and Terms Of Use, visit dynamicdrive.com-->
Golf Swings Main Site - Over 100 Professional Golf Swings


THE GOLF SWING OF JOEY SINDELAR

Golf Swing Video below
Joey Sindelar's Golf Swing Highlights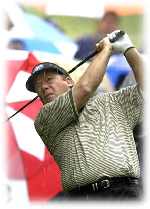 FULL NAME: Joey Sindelar
HEIGHT: 5-10
WEIGHT: 220
BIRTHDATE: March 30, 1958
BIRTHPLACE: Ft. Knox, KY
RESIDENCE: Horseheads, NY
FAMILY: Wife, Suzanne Lee; Jamison Prescott (2/2/90), Ryan Joseph (5/13/93)
EDUCATION: Ohio State University
SPECIAL INTERESTS: Fishing, electronics
TURNED PROFESSIONAL: 1981
JOINED TOUR: 1983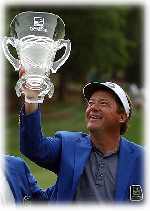 Fourteen years and 370 tournaments removed from his last victory, Joey Sindelar made it worth the wait Sunday May 9th 2004 in the Wachovia Championship for his first victory since the 1990 Hardee's Golf Classic.

Sindelar joked that his children thought the six trophies from his previous tour victories - the last of which he won in 1990 - were replicas used for decoration. He was the 222nd ranked player in the world when the week began and, in his private moments, he would admit to wanting to hang on the big tour long enough to be competitive when he turned 50 and slipped over to the Champions Tour.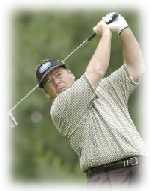 Joey's previou wins were the (6) 1985 Greater Greensboro Open, B.C. Open. 1987 B.C. Open. 1988 Honda Classic, The International. 1990 Hardee's Golf Classic.

Winner 1972 New York State Junior, 1980 New York State Amateur, 1981 New York State Open...Three-time All-American at Ohio State University and member of 1979 NCAA Championship team at Ohio State...Childhood friend of fellow PGA TOUR member Mike Hulbert...1992 inductee into Ohio State University Athletic Hall of Fame.


---
Below is a video of Joey's golf swing


Right click on the video for control options.
Please be patient while video loads - Cable and DSL is immediate whereas 56K or less is 20 - 60 seconds


Beau Productions - Golf Swings
Multimedia Downloads


MAKE EASY MONEY - JOIN OUR REFERRAL - AFFILIATE PROGRAM


Need More Distance Click Here - Hit It Longer


© Copyright All Rights Reserved Beau Productions - Golf Swings 2000





- Top -