!-onMouseover Link CSS Script-© Dynamic Drive (www.dynamicdrive.com). For full source code, installation instructions, 100's more DHTML scripts, and Terms Of Use, visit dynamicdrive.com-->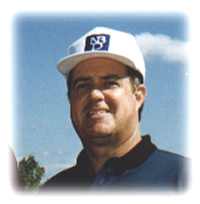 The Golf Swing of
Mike Waiz



Mike Waiz and I have been friends and co-workers in the banking business for many years. Mike is now retired and enjoys being with his family and playing golf a few times a week.

Mike was a star high school basketball player at Silver Creek High School averaging around 17 points per game. I met Mike in 1980 and we have played a lot of basketball and softball games as teammates. Of course now we play a lot of golf together. I have always respected Mike as a friend and as a business co-worker.

You will note when viewing Mike's swing he has a short compact swing and delivers good power to the ball. Like most amateurs, he has a reverse pivot on some of his swings. Mike presently plays to a 15 handicap and shoots between 80 to 90 on most occasions. On July 5th his last round playing with me he shot an 81. Mike has the potential to shoot some very low scores.
---

Below are 4 videos of Mike's golf swing . Please be patient while the videos load - Cable and DSL is immediate whereas 56K or less is 20 - 60 seconds. Right click on video for start/stop and other control options.

Swing 1 -- Swing 2 -- Swing 3 -- Swing 4
---
Need More Distance Click Here - Hit It Longer


© Copyright All Rights Reserved Beau Productions - Golf Swings 2000

Golf Swings Main Site - Over 100 Professional Golf Swings

- Top -