Nancy's Golf Swing Highlights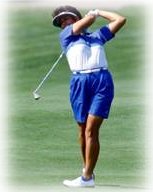 Lopez, Nancy, a four-time winner of the Ladies Professional Golf Association (LPGA) player of the year award (1978, 1979, 1985, 1988). Lopez was born in Torrance, California, and educated at the University of Tulsa. She left school in 1977 after her sophomore year to turn professional and finished second in her first three tournaments, setting a record for rookie earnings for both men and women. She earned the LPGA rookie of the year award for her performance that season. Lopez won the 1978 LPGA Championship, her first major tournament victory, and was the leading money-winner on the tour for the year. She repeated as leading money-winner twice more (1979, 1985) and won the LPGA Championship again in 1985 and 1989. With 35 tour victories by the age of 30, Lopez won election to the LPGA Hall of Fame in 1987.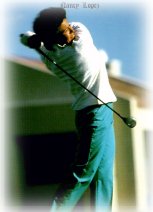 A well-liked and intense competitor, Lopez developed a style that combined a powerful and unorthodox swing, excellent putting, fierce concentration, and a relaxed attitude. Her spectacular performance during the late 1970s and early 1980s did much to increase the popularity of women's professional golf. Known for her excellent putting and unorthodox yet powerful swing.

In 1997, won her 48th career title at the Chick-fil-A Charity Championship; finished second at the U.S. Women's Open Championship after firing rounds of 69-68-69-69, making her the only woman in U.S. Women's Open history to shoot four rounds in the 60s, yet still finished one stroke behind Alison Nicholas for her fourth runner-up finish in the Open, a title she has never won; crossed the $5 million milestone in LPGA career earnings after the season-ending ITT LPGA Tour Championship.