Before making the automatic comparison to a certain attractive women's tennis star, be assured that Gulbis' game warrants the attention. She earned her LPGA Tour card by tying for third at qualifying school last year, and she ranked 39th on the money list this season with four top-10 finishes.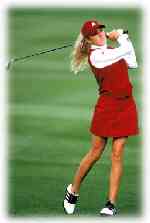 Natalie is compared constantly to Anna Kournikova. "It's a flattering comment," she said. "Anytime you get any kind of a positive comparison in the media, you'll take it but I'd rather be compared to Annika Sorenstam" .

Natalie works on her game with Butch Harmon. Harmon is working on her unorthodox swing, which features her head rotating away from the ball in the backswing with the club going extremely high.

Butch Harmon reviewed his work with Gulbis in a Golf Digest article, he stated Gulbis has "the most unusual position at the top that I've ever seen." Fortunately, her powerful downswing and excellent lower body rotation means her game requires only minor adjustments. "Her potential is unlimited," Harmon said. "Natalie has a tremendous amount of talent."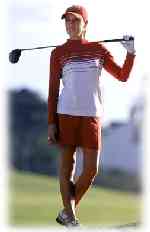 Natalie began playing at age 4 with the father. John Gulbis. A retired probation officer with long hair and a shaggy beard, John is his daughter's unofficial driver, security officer and golf consultant on the road. Most of all, he's a proud father.

When Natalie made the decision to turn pro, John initiated a concerted marketing effort. Within months, she had two agents, a business manager, a psychologist, and sponsorships from companies such as Met-Rx, TaylorMade-Adidas, and Maxfli. Before long, LPGA fans were well aware of the charismatic rookie from California.

"There's been so much demand," John said. "You add up all the other LPGA girls combined and she gets more hits on the LPGA web site (www.lpga.com) than they do." With an eye toward cross-marketing, Team Gulbis has plans to capitalize on that popularity. "This is just the tip of the iceberg," John said.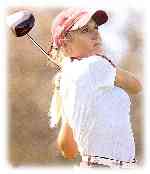 During the off season, Gulbis will be taking acting classes, and there's talk of her appearing in a commercial for Adidas with Kournikova. She also has a contract with the William Morris Agency to find her acting work (she's already talking with Warner Bros. about a part in a television series).

Natalie still makes working out and running a top priority. "Golf is entertainment," she said, "and if there's some way that we can help promote our tour in a classy manner, we're going to do it."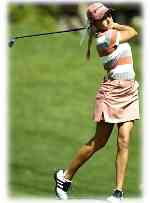 Despite her good looks and talent she has no attitude at all. A girl that young on the LPGA Tour, who's had success and is attractive as she is, you'd think there'd just be massive attitude. But there's none of that.

Natalie makes an effort to sign every autograph and does not have a snotty word for anyone. She is a very nice person. Natalie states "I think if someone's going to come out and watch me do what I love to do, I can spend 15-20 seconds with them, If that little amount of time is going to create a greater fan base, then it's well worth it." Natalie is just what the LPGA needs to help promote the best lady golfers in the world.

Visit Natalie's Official Golf Site at http://nataliegulbis.com



Looking to really improve your golf game? If you are looking to find information on the PGA tour or find out more about Natalie Gulbis there is only one site for you! Improve your game and knowledge by signing online today!



---

Click Here for a video of Natalie Gulbis's golf swing