Shawn Micheel's Golf Swing Highlights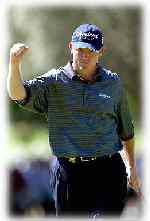 2003 PGA Champion
FULL NAME: Shaun Micheel
HEIGHT: 6-0
WEIGHT: 180
BIRTHDATE: January 5, 1969
BIRTHPLACE: Orlando, FL
RESIDENCE: Memphis, TN, plays out of Ridgeway CC and TPC at Southwind
FAMILY: Wife, Stephanie
EDUCATION: Indiana University (1991, Biology)
SPECIAL INTERESTS: Flying, hunting, snowskiing
TURNED PROFESSIONAL: 1992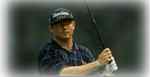 Given that few people know much about Micheel before his PGA Championship , the golfer was asked to give reporters a quick thumbnail sketch. "I don't have a whole heck of a lot," he said. That sort of overlooked the fact he is a pilot, and the son of one of FedEx's original pilots; that he has won $640,172 on the PGA Tour this year before his PGA victory, that he played at the University of Indiana and in South Africa and Malaysia; and that he and his wife, Stephanie, are expecting their first child in three months.


He is probably best known, though, for what happened during a practice round at a 1993 minitour event in North Carolina. "I happened to see the car go off an embankment, about 30 feet above the surface," Micheel said.

"Noboby could really get down to where they were. Not knowing how deep the water was, I didn't want to test my swimming skills with clothes on, so I stripped down to my orange fish boxers and went out and pulled them out," he said. Of the couple, he said: "I never heard from them after that." Of that week, he said: "I lost that tournament because I kept hitting in the water the last few holes. It was kind of ironic."