---
Below is a video of George's golf swing




Please be patient while video loads - Cable and DSL is immediate whereas 56K or less is 20 - 60 seconds - Once video starts you can stop or pause swing action by right clicking on the video

---
---
George W. Bush is the 43rd President of the United States. Formerly the 46th Governor of the State of Texas, President Bush has earned a reputation as a compassionate conservative who shapes policy based on the principles of limited government, personal responsibility, strong families and local control.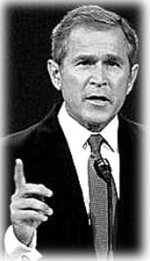 President Bush was born July 6, 1946, and grew up in Midland and Houston, Texas. He received a bachelor's degree from Yale University and a Master of Business Administration from Harvard Business School. He served as an F-102 pilot for the Texas Air National Guard before beginning his career in the oil and gas business in Midland in 1975, working in the energy industry until 1986. After working on his father's successful 1988 presidential campaign, he assembled the group of partners that purchased the Texas Rangers baseball franchise in 1989.

He served as managing general partner of the Texas Rangers until he was elected Governor on November 8, 1994, with 53.5 percent of the vote. In an historic re-election victory, he became the first Texas Governor to be elected to consecutive four-year terms on November 3, 1998, winning 68.6 percent of the vote.

President Bush is married to Laura Welch Bush, a former teacher and librarian, and they have twin daughters, Barbara and Jenna, who are college students. The Bush family also includes their dogs, Spot and Barney, and a cat, India.
---
Need More Distance
Guaranteed 30 Yard Or More Click Here - Hit It Longer


Beau Productions - Golf Swings
Multimedia Downloads