!-onMouseover Link CSS Script-© Dynamic Drive (www.dynamicdrive.com). For full source code, installation instructions, 100's more DHTML scripts, and Terms Of Use, visit dynamicdrive.com-->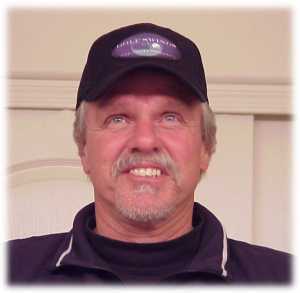 The Golf Swing of
Ray Beaufait



I played very competitive basketball and softball well into my 40s. Because of this I took up golf at the late age of 47 in 1990.

I played for a whole year before I broke 100. My handicap was in the range of 18 to 30 for a long time. There were times when I felt like quitting the game because of frustration and failure to improve.

Through the years I have become a better than average golfer but not a great golfer. They say that only 10% of all amateur golfers consistently break 100. My handicap has been as low as a 8, but it is usually in the range of a 10. One area of the game I have developed is my driving distances. I can still consistently hit the golf ball over 300 yards. My distance off the tee has improved substantially after the age of 60. The reason I believe is my exercise routine, setup, Steve Griffith (WLDC) and of course todays high tech equipment.

What I enjoy most about golf is the competition, being with my friends and this game is always a challenge. No matter what you shoot you are always trying to improve your game. I love to bust the long drive and had won a few long drive contests before getting serious about the RE/MAX World Long Drive competitions. What I enjoy least about this game are amateurs that take the game to serious and the golf course cheats. You know, the guy with the oversized ego that has to cheat to make him feel better about his game and himself. Those kind of guys are only fooling themselves.

Below are a few of my golf accomplishments to date: Click on each to view details.
---
Below are two video clips of my golf swing. This was taken a few years back. .

Please be patient while video loads - Cable and DSL is immediate whereas 56K or less is 20 - 60 seconds. Right click on video for start/stop and other control options.

Click on the links below to view
Ray's golf swing
1. Back View
2. Front View
---

I am retired and enjoy computers. When I am not playing golf I spend my time with family, friends and working on computer items. I also enjoy the Old West and have wrote a few ebooks about Western History. I enjoy maintaining Golf Swings Web Site and adding new features on a regular basis.

I try to make a little extra money to maintain this web site and pay my damn health insurance by selling my computer programs I design and create. I have also published a few web page sites for friends and business associates.

If you have any thoughts, suggestions or criticism, please email me. I will respond as soon as possible to any email I receive.


---
© Copyright All Rights Reserved Beau Productions - Golf Swings 2000
Golf Swings Main Site - Over 100 Professional Golf Swings
- Top -